Every Refugee has a Story
To mark this World Refugee Day, we invite you to read and recognise the personal stories of those who have been forced to flee their homes and homelands. Our partners collected and shared them with us. Our shared humanity urges us to listen.
Today is World Refugee Day, reminding us of the courage, strength and humanity of those forced to flee their homes and homelands. People are compelled to start their refugee journeys for many reasons. Some are fleeing drought, famine, poverty or war, some domestic violence or imprisonment. Some are leaving a decent job behind. In an era of stringent visa rules and high migration costs, it's not the poorest or the wealthiest who leave. No journey is completely planned, and no journey is completely improvised. That's why it's crucial for us to recognise these stories and keep them alive, ensuring they are heard.
We invite you to read the personal accounts which SOS MEDITERRANEE, Médecins Sans Frontières, the International Rescue Committee, the Luminos Fund, Village Enterprise, Medair and BRAC have collected and shared with us. Some are filled with sadness, some with hope. Because every person is a different story among many. Our shared humanity urges us to listen.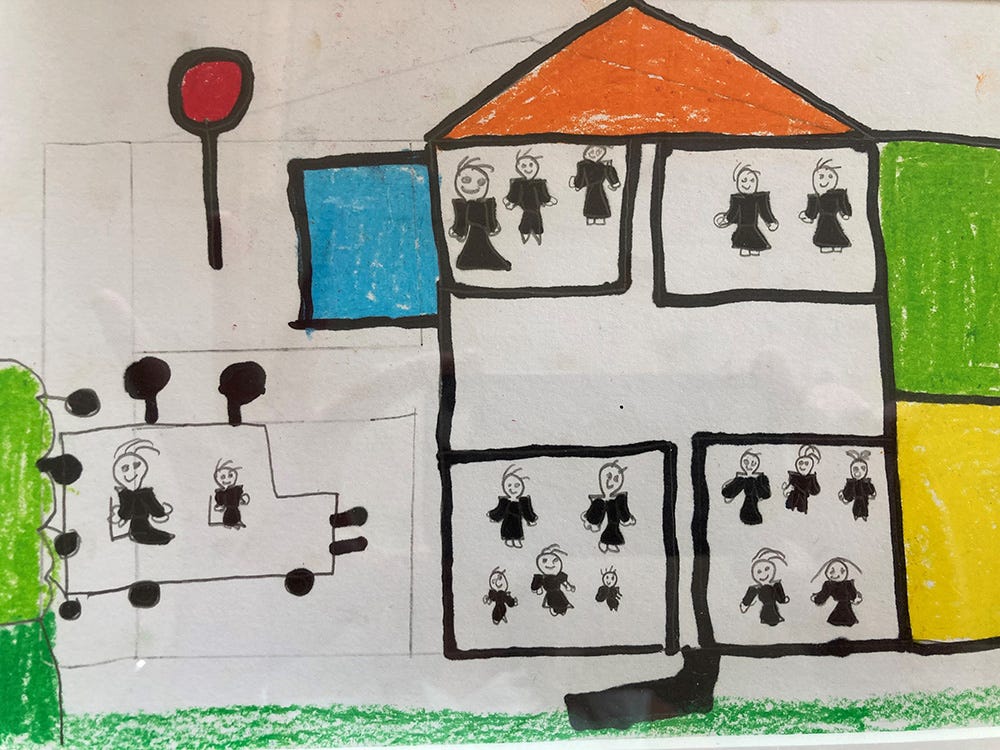 I HOPE MY FAMILY WILL FIND ME
"I was born in Mogadishu. When I was nine, the civil war got much worse. My parents managed to escape but abandoned me. I stayed at my uncle's house, but he wasn't good to me and my life was hard. I had to clean and work in exchange for staying with him and his family, who treated me like a slave. He wanted me to marry a cousin of his who was 83 years old, living in Dubai. I was eleven years old at the time. I refused to marry him and escaped to a friend's house.
"Another friend of mine suggested I go to Libya, which I did in 2020. I was fourteen years old.
"I told the people where I was staying that I couldn't pay them. Every day, they beat me because I had no money. I stayed there for three years. I got beaten every day for three years.
"Then, when I got a skin infection, they made me leave the place and sent me to Tripoli.
"I was put in a prison and stayed there with other women. The women I was with collected money for me to pay the smugglers. I was taken to another place, a 'mafia place', before leaving on the boat. This place was run by some Libyan women. The food was very bad and we only had one meal a day.
"Then one day, they came with a pick-up car and told us to get inside. This was our only chance to leave. Once on the beach, we had to quickly jump into the boat. I had a panic attack and started screaming. A man told me I could sit with him in the front of the boat, where he would protect me. After a few hours, we saw that the rubber boat was deflating. We saw water coming in, we were scared. The people on the boat wanted to call for help, but I stopped them: I was scared that this would make us go back to Libya. 
"When I saw the rescue boats arriving, I started crying. I remember I was one of the last to get into the Ocean Viking, and when their team helped me aboard, I gave in. I had lost all my energy.  Now I hope my family find me thanks to this testimony. That's my dream." 
Asha was one of the 92 people rescued from a rubber boat in distress in international waters off the coast of Libya on the 1st of April 2023. She was one of 47 unaccompanied minors then on the Ocean Viking, the search and rescue vessel operated by SOS MEDITERRANEE.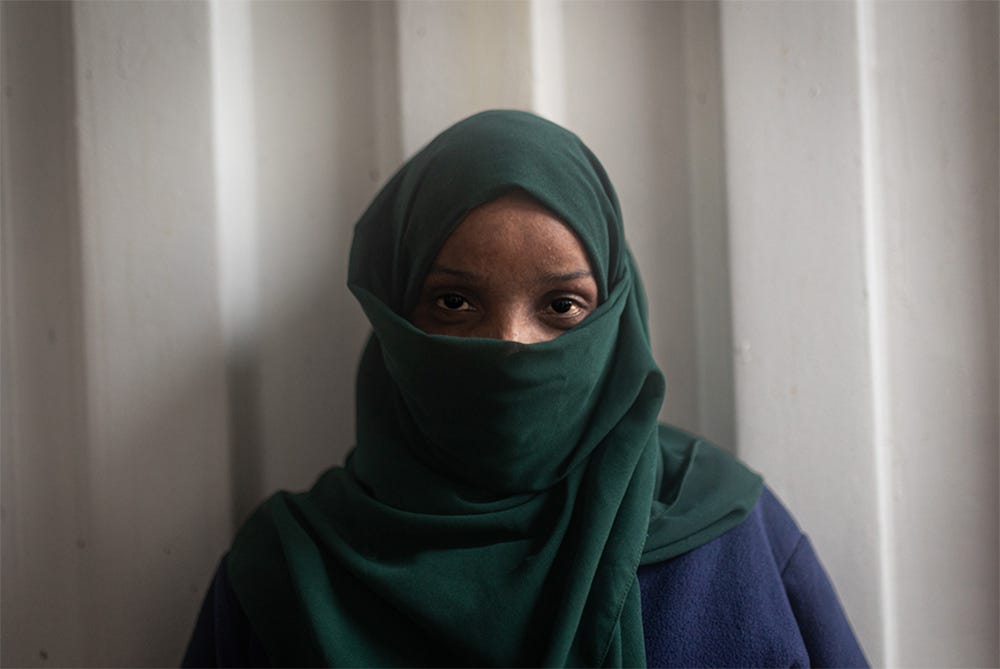 WE CAN'T FORGET WHAT WE WENT THROUGH
"When the Russian soldiers came to our yard, we were in the basement. They told us to come outside, checked our documents and then sent us back to the basement. Then they moved into our house and started living there. My husband had been shot in the back when we were still at home. After he was shot, he stayed in the basement for a month and a half without treatment or medicine. We had nothing. Everything was destroyed.
"When the Ukrainian soldiers entered our village, they asked if anyone wanted to leave. That same day, we went to Kryvyi Rih. We have friends there who sheltered us. There were 14 people living in their house, including us.
"Later, we asked for a place to stay at the displacement shelter because we'd been sleeping on the floor at our friends' house and my husband was still recovering from surgery.
"On the 3rd of April, we found out that my son had died. They told us that his body was in a morgue in Kryvyi Rih and now we have buried him.
"We are recovering but can't forget what we went through. We have no home now. It was destroyed. But we still want to return and rebuild our village. We thank this city for sheltering us. But home is home."
Mental health needs in Ukraine are enormous and addressing war trauma is a priority for Médecins Sans Frontières' teams. Yevhenia is one of MSF's patients. She is from a village in the Kherson region, currently under Russian military control. She now lives in a centre for displaced people in the Dnipropetrovsk region.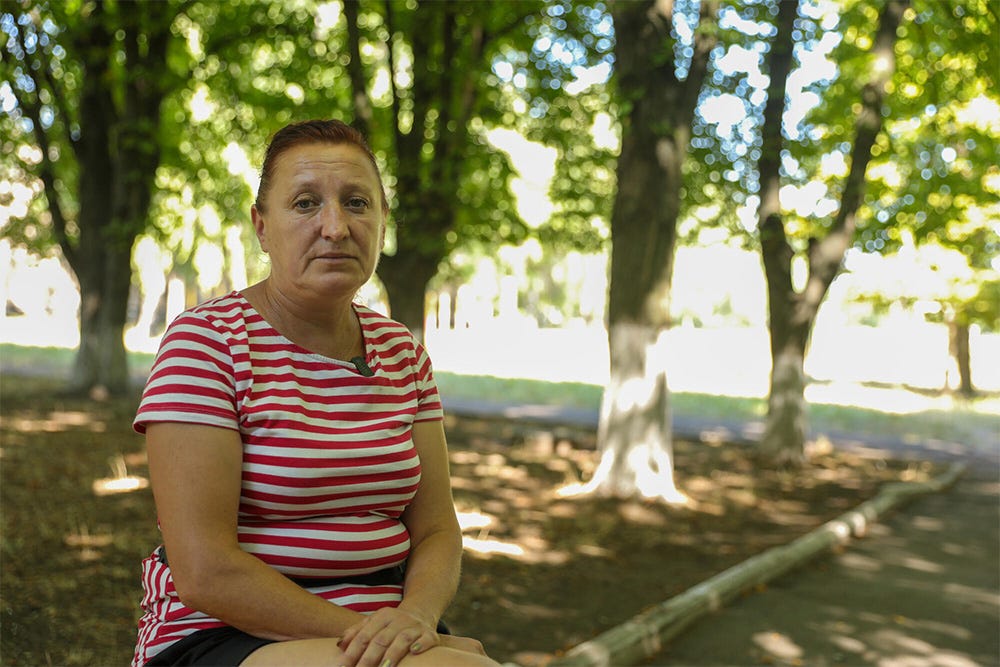 WE ARE STRONGER THAN THE WORLD THINKS
In August 2021, Arifa Sanjar, 18, Zahra Mosavi, 19, and Hadisa Rezayee, 18, all Afghan students at the Asian University of Women, found themselves stranded outside Kabul airport with a group of 170 students. The Taliban had just taken control of the country and they were among the thousands hoping to evacuate - even if it meant leaving their families behind. The situation was tense and dangerous. The friends had to wait three days before they could get inside the airport, let alone board a plane for their final destination, the United States.
A little over a year later, while most refugees have resettled in homes and residential communities, these young women are rebuilding their lives at Arizona State University (ASU) as part of a co-sponsorship programme between the University and the International Rescue Committee (IRC).
Zahra, Arifa and Hadisa's days are packed with activities and studying.
"We weren't allowed to bring anything," Arifa told us. "We only had the clothes we were wearing. We face many challenges, but are still trying our best. We're stronger and more knowledgeable than the world thinks."
18-year-old Arifa is studying cybersecurity. She's also an active athlete who practices martial arts and skateboarding. Arifa's gained a black belt in Taekwondo, competed in several competitions, including the Asian Olympic Games in Turkmenistan, and has now started an Aikido club at ASU. "Someone who says 'I like sport' is different from someone who says 'I love sport'. For me, sport is a love."
Hadisa commented "It hurts me when people say 'I'm sorry you're from that country.'
"I'd really like to do something for the girls of Afghanistan, especially those who have lost their parents or don't have anyone to support them. I'd love to bring change to the next generation of Afghans.
"I hope that one day my country will be at peace and no one will be scared of going to Afghanistan. I hope everyone will be living in peace without risks to their lives… living in unity, happily, with each other."
18-year-old Hadisa plans to study software engineering.
"I was surprised by how big the ASU campus is," said Zahra. "I find my classes with Google Maps and still get lost sometimes.
"I am in a place of opportunity where I can raise my voice. Here, there are many opportunities for women. A woman can achieve all her dreams here. But girls in Afghanistan can't."
22-year-old Zahra plans to study law to support her family and help women and girls in her home country.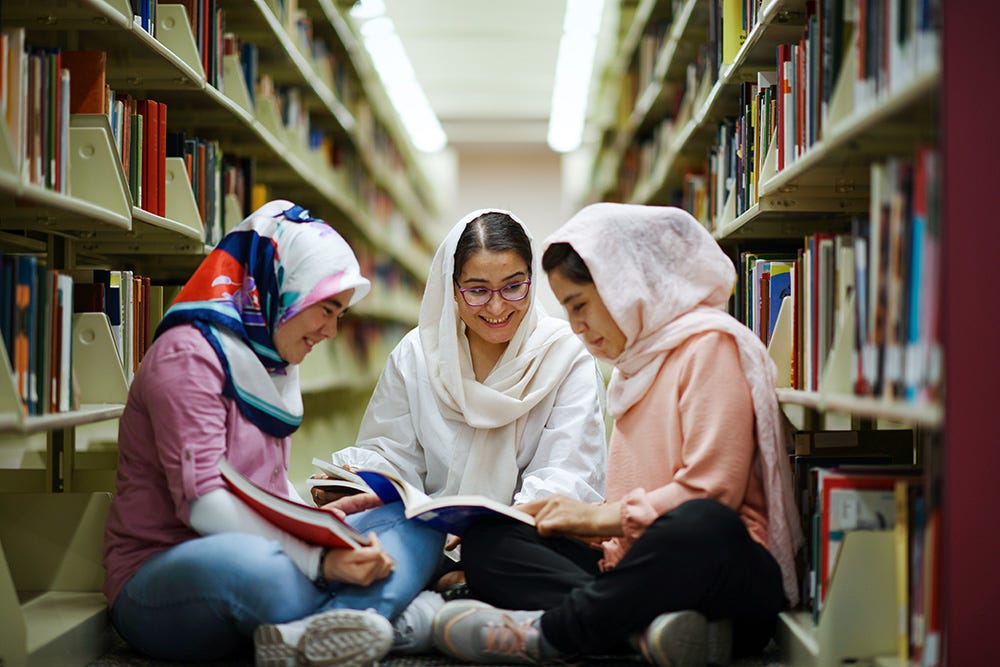 WE WAITED A DAY AND LEFT
"We were at home when an aeroplane hit a house behind ours. We waited exactly one day and left." That's how Awfa remembers the day that changed her life forever.
A Syrian refugee now living in Lebanon, Awfa loves reading and dreams of studying French to teach at a university.
"I'm happy here. I've never been to school before. This is my first time. I never miss a day. I'm learning so many things!"
Lebanon remains at the forefront of one of the worst humanitarian crises of our time and hosts the highest number of displaced persons per capita in the world: 1.5 million Syrian refugees.
Over 7,000 children affected by conflict and displacement have already had the opportunity to return to school and fill the most important gaps in their education thanks to The Luminos Fund.
Luminos' accelerated learning programme brings new hope to children denied the chance to go to school, helping them to learn to read, write and do basic maths before transitioning to state school with the foundational learning skills they need to succeed even in challenging situations.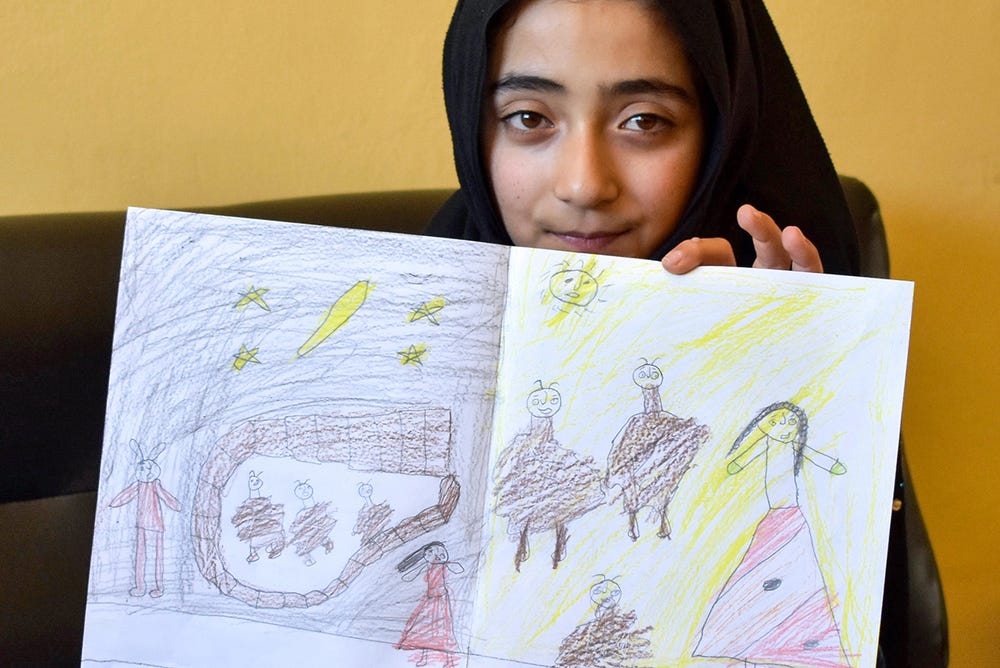 A SAFE PLACE TO CALL HOME
"When war broke out in South Sudan, I fled my home with my four children, nephew and grandchild. We arrived at the camp and were given food and a tarp for shelter. We found grass and made bricks to build a small, grass-thatched house. I had to pay someone to help build the walls.
"As a widow, I didn't have a husband to help me, nor did I have any opportunities to earn an income of my own. So, when our food rations weren't enough to last all month, we began skipping meals. We ended up eating only one meal a day and my children had to drop out of school because I couldn't afford the fees. Finally, termites got into our home and began eating through the walls, causing it to leak whenever it rained.
"But I experienced a new sense of hope for my family's future when I heard of Village Enterprise. Thanks to their DREAMS programme, I learnt how to start a small business and all the financial skills needed to run it. My mentor helped me work out which activity would work best in my community. Then I joined with two business partners and launched a retail business buying and selling clothes.
"It's been almost a year since I joined the programme and my family's situation has greatly improved. Everyone is eating three meals a day and I've been able to afford the school fees for two of my children, though I have plans to send the rest of my children back to school soon. I've also been able to build a new house with iron sheets on the roof and stronger doors. It's a safe and solid place we've started calling home."
The Rhino Camp Refugee Settlement in northwestern Uganda is home to over 120,000 refugees who have fled conflict, environmental disasters and other significant shocks in their home countries. Susan is one of them. Village Enterprise's DREAMS (Delivering Resilient Enterprises and Market Systems) for Refugees programme is an innovative partnership that combines Village Enterprise's poverty graduation programme with Mercy Corps' expertise in market systems development. Together, they equip refugees with the skills, resources and enhanced markets to launch sustainable businesses that generate reliable incomes.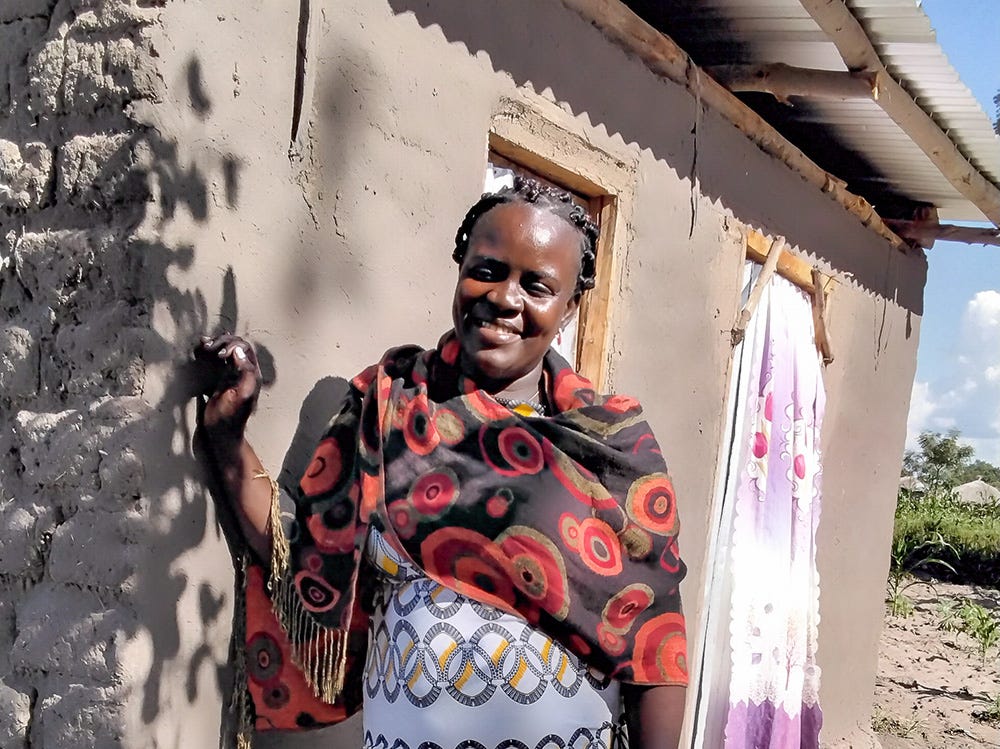 WATER IN THE DROUGHT
"It had been too long since there was enough rain for us. My cattle died and growing crops became impossible. I had no choice but to leave home and find a place where I could stay with my child. Without water, nobody can survive. It was a long and dangerous journey for me and my infant to find your support here in this camp, in this new community. Without it and the support we receive, all of us would probably be dead already. In the morning, we wait for the trucks to arrive. They bring the safe drinking water we all depend on to survive. I come to the tank early to queue and fetch it, so I am not away from our tent for too long. Needs in the settlement remain high. You can see my baby is malnourished. Water was my biggest concern and I'm glad that at least for now I don't have to worry about it." 
Jasira is living in a remote settlement for internally displaced persons in South Somalia with her young son, Hodan. She used to have a small farm where she grew their crops and kept livestock. The severest drought in more than four decades destroyed her livelihood and has displaced more than 1.3 million Somalians.
Medair's teams are delivering critical healthcare, nutrition and safe drinking water to vulnerable populations in south-central Somalia.
MY ULTIMATE DESIRE IS TO RETURN
"In 2017, my family and I fled Myanmar after enduring horrible torture by the army. Upon arriving in Bangladesh, I faced numerous challenges, including a lack of resources. During that time, I was mentally shattered, living an unbearable and inhumane life. Being displaced, I felt lost and unsure of what to do. Although the Bangladesh government provided us with shelter, it took a long time to heal from the emotional wounds.
In 2018, I started working as a community health worker at BRAC. Thankfully, this job has not caused any conflicts within my family. My aspiration now is to continue working as a community health worker so that I can provide a good life for my children. However, my ultimate desire is to return to Myanmar with full citizenship rights. Our only wish is to create a safe living environment in Myanmar. If such an environment is established, we will definitely go back."
Dilara Begum is a Rohingya women. Today she works as Community Health Worker at BRAC Primary Health Care Centre, in Camp 13 at Cox Bazar.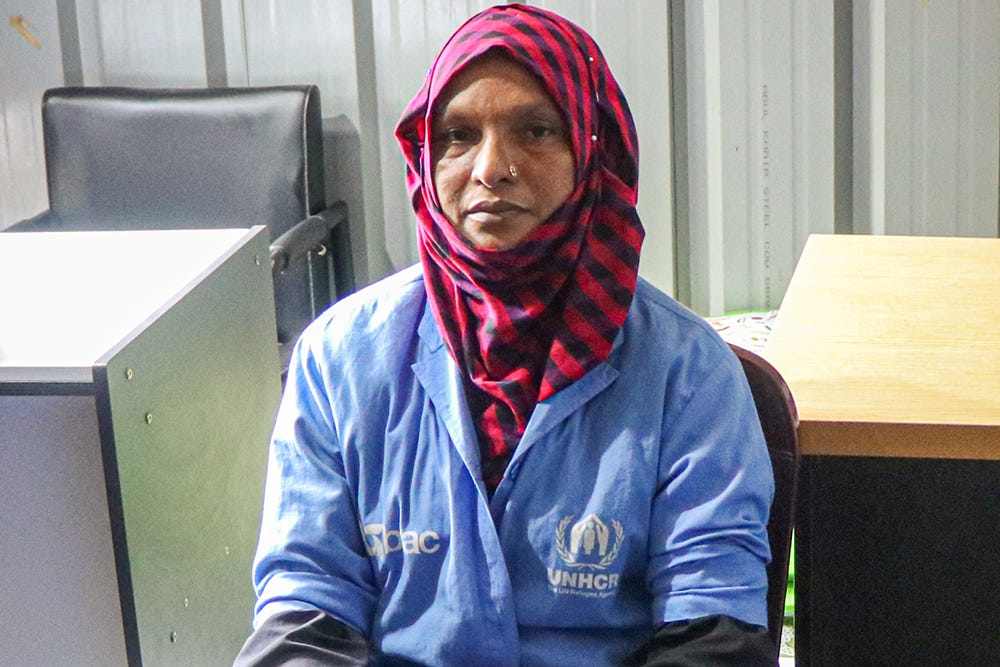 The names of everyone in this article have been changed for privacy. Their testimonials have been lightly edited for clarity and brevity.