Helping Afghans at home and away
With the Taliban takeover, the situation for the Afghan population continues to deteriorate. As winter approaches, rural communities will soon be isolated. We're supporting three humanitarian organisations to ensure Afghans can access their basic needs inside and outside their homeland.
Forty years of war, recurrent natural disasters, chronic poverty, drought and the COVID-19 pandemic have left millions of Afghans in a dire humanitarian crisis.
With the Taliban takeover and withdrawal of foreign forces, the situation has continued to deteriorate.
Tens of thousands of Afghans have fled the country, often taking desperate measures. Over 600,000 people are estimated to be displaced and many may seek to leave in the coming months, especially those who fear they will no longer be able to work or study. Nearly 23 million Afghans (half the population) struggle to afford food every day and over 3 million children are facing hunger and need immediate aid to survive.
With winter approaching, rural communities will soon be isolated by snow and harsh weather.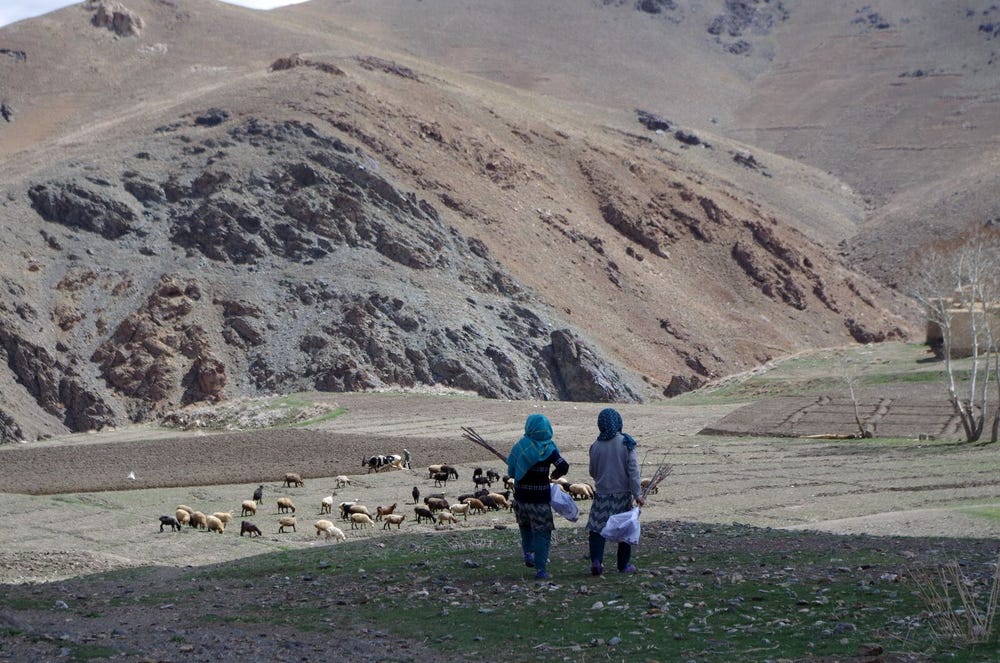 We're supporting five humanitarian organisations in their efforts to ensure Afghans can continue to meet basic needs inside and outside their homeland.
Medair has been in Afghanistan for 25 years. Today, its teams are providing health, nutrition and food security support to 30,000 vulnerable Afghans living in the Central Highlands and in the southern regions of the country. Mobile teams focus especially on screening and treating acute malnutrition among children under 5 and on pregnant or lactating women.
Under the Taliban's rule, women and girls are more at risk of suffering from increased violence, abuse and retaliation, and are likely to be excluded from work, public spaces and schools. Women for Women International has helped more than 120,000 women in Afghanistan over the past few decades with microfinance support and its signature empowerment programme, which provides cash, training and business and life skills to marginalised women survivors of war and conflict. As the situation in the country evolves and the regular programme is suspended, Women for Women International is organising psychosocial support for its staff and developing dedicated resources to provide women with critical psychological first aid
The International Rescue Committee has resettled thousands of Afghan refugees in the United States since 2015, ensuring they have access to safe, decent and stable housing, long-term healthcare, education, financial stability and rights services. The International Rescue Committee now aims to help over 10,000 new arrivals supporting their resettlement so they can recover their futures and integrate in their newfound communities.
For years the Afghan health system has been understaffed, underequipped and underfunded. After the change of regime in August 2021, many fear it might collapse entirely, with Afghans facing the consequences. Médecins Sans Frontiérès (MSF) has supported the 300-bed Boost Hospital in Lashkar Gah, the capital of Afghanistan's Helmand province, since 2009. Boost Hospital is the only health facility in the region where maternity emergencies and patients with complications can be assisted, and provides a lifeline for the 1.4 million people living in Helmand province. Working alongside Ministry of Health staff, MSF teams are supporting the accident & emergency, surgery, maternity, inpatient, neonatal and paediatric units as well as an inpatient therapeutic feeding centre.
A hunger crisis is unfolding rapidly in Afghanistan. Through a network of dozens of warehouses and cooperating partners linked by its fleet of trucks and other vehicles, the World Food Programme (WFP) delivers food and nutrition assistance across all the 34 provinces of Afghanistan. This support includes emergency food assistance, the prevention and treatment of acute malnutrition, school feeding programmes, including school meals or take-home rations for primary school children and cash transfers for secondary school girls, food or cash assistance to empower families in need to make their own purchasing decisions and build or boost productive assets. The organisation aims to provide food assistance to 23 million women, men and children in the country facing emergency or crisis levels of acute food security in 2022.