Joining forces to end extreme poverty
The key to ending extreme poverty could be in our reach. It comes from a globally validated proof of concept: a "Graduation" approach pioneered by BRAC in Bangladesh and now adopted and adapted by many organisations, several of whom are our partners.
The World Bank estimates that up to 115 million people will be forced into extreme poverty by the end of 2020 due to COVID-19 and the measures taken to contain the virus, unravelling decades of poverty alleviation. Adding these people to the 700 million who were already living in extreme poverty before the pandemic, it is clear that the poorest are more than ever the most at risk of being left behind.
But there are strategies to combat this. The Ultra-Poor Graduation approach pioneered by BRAC in Bangladesh is the first scalable solution that the global development community considers proven to help people lift themselves out of extreme poverty, enabling them to "graduate" into sustainable livelihoods.
Designed as a "comprehensive, time-bound, integrated and sequenced set of interventions", this four-pillar approach combines a first pillar of short-term survival mechanisms ensuring basic needs are met, with three pillars of social and financial interventions producing economic outcomes that are sufficiently robust to persist over time. The first-pillar protective mechanisms include consumption support, crisis relief and free access to health and education. The second pillar is an asset transfer, cash transfer or loan, along with technical skills training to manage the asset or access employment opportunities. The third pillar is direct access to formal or informal financial services, accompanied by financial literacy training. While the fourth and final pillar takes the form of regular check-ins and life-skills support that build confidence and promote social inclusion and positive behavioural change.
Cartier Philanthropy works with a vibrant community of partner organisations that implement different variations of the graduation approach to fight ultra-poverty around the world.
BRAC leads the way. This organisation, founded in Bangladesh, is the originator and largest implementer of the ultra-poor graduation approach, having reached more than 2 million households in Bangladesh and developed and implemented adaptations in 14 countries across a range of different contexts and vulnerabilities. Between 2016 and 2019, we supported the replication and adaptation of BRAC's graduation approach in Uganda, which resulted in a verifiable increase in income and consumption, assets, food security and health for over 8,200 people. Building on these results, we're now funding a pilot programme, again in Uganda, with the purpose of making disability an integral part of the approach.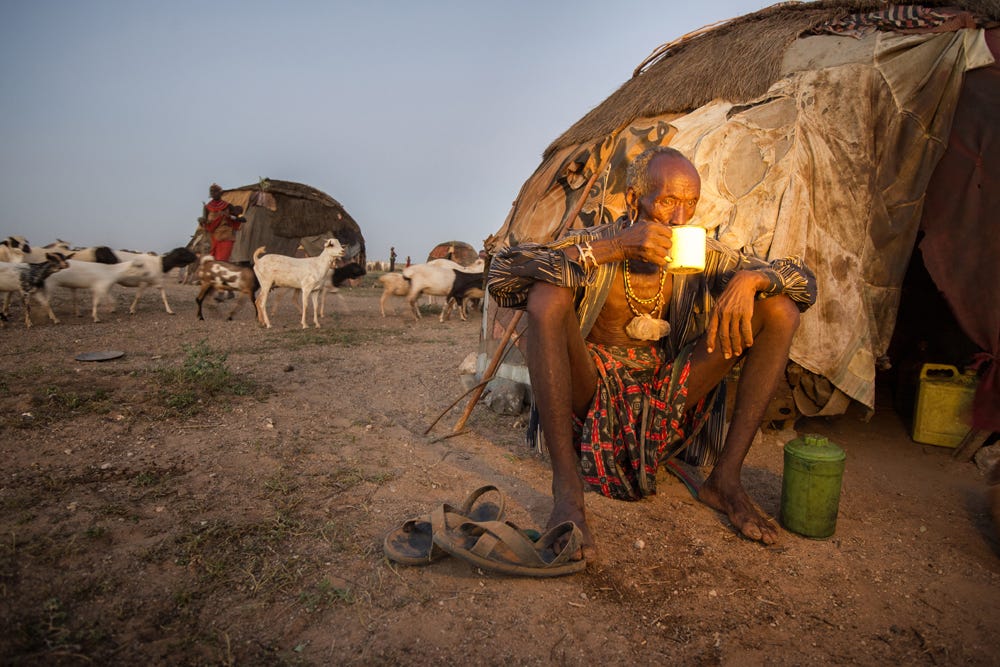 Village Enterprise implements its cost-effective microenterprise graduation programme in East Africa and has so far trained over 197,000 people and kickstarted more than 52,000 micro-businesses. A combination of cash transfers, business and financial literacy training, ongoing mentoring and support for the establishment of three-person businesses and of savings groups is steadily leading to tangible financial gains and significant increases in nutrition, education and healthcare for extremely poor individuals. Following a successful first grant in Western Uganda, we're continuing our support for Village Enterprise as they scale up and move into new communities and countries.
BOMA's poverty graduation programme targets ultra-poor women living in remote rural communities in the drylands of Africa, home to some of the world's most persistent pockets of extreme poverty and food insecurity, at the epicentre of worsening climate change impact. Providing sequenced interventions – including seed capital, training in financial competencies, gender-focused life skills and human rights, as well as two years of mentoring – BOMA's graduation programme supports its participants to start and build businesses and saving groups, increase their financial and food security, invest in their children's health and education and gain increased voice, choice and agency. To date, BOMA has helped more than 225,000 women and children graduate from extreme poverty by establishing more than 12,000 women led microenterprises and 2,000 savings groups in Kenya and Uganda. Several internal and external evaluations have validated the effectiveness of BOMA's intervention. The organisation's goal is to enrol over 165,000 women and support over 830,000 children by 2022. We're helping BOMA to maintain momentum in this critical phase.
Women for Women International works at the intersection of women and conflict, providing skills, knowledge and resources that create sustainable change for ultra-poor and socially marginalised women living in fragile and conflict-affected states. Its signature women's empowerment programme, which Cartier Philanthropy has supported in multiple countries since 2013, implements a gendered graduation approach in a 12-month bundled intervention that combines social empowerment to overcome barriers to inclusion, with economic pathways to increase food security, income, savings and resilience to shocks.
The level of effort, programming, resources and tenacity required to eradicate extreme poverty vastly exceeds the capabilities of a single organisation. The efforts of the incredible partners we work with are, year by year, steadily building the global evidence of how graduation can be adapted to key poverty contexts and scaled effectively and efficiently through the actions of government integration, multilateral institutions, private funders and other NGOs.
Comprehensive evidence of the success of the graduation approach has drawn considerable attention, including the latest impact study by Banerjee, Duflo and Sharma, which confirms persistent positive gains in the economic wellbeing and health of households 10 years after programme completion. These further results are likely to spur greater multi-actor coordinated action, with the elimination of extreme poverty worldwide being the number one United Nations' Sustainable Development Goal: "End poverty in all its forms everywhere".