Ending poverty and hunger begins with agriculture
We talked to World Bicycle Relief, One Acre Fund and myAgro, three of our partners organisations that work in Zambia, Rwanda and Senegal, providing farm families with knowledge, tools and inputs to earn a sustainable living income and supply their communities with nutritious food.
According to the World Bank, there are an estimated 500 million smallholder households around the globe, amounting to upwards of two billion people. Mostly small-scale farmers cultivating less than five acres, they comprise a significant portion of the world's poor living on less than $2 a day. They also produce about 35% of the world's food, which is why providing this vast group with sustainable livelihoods is a priority in the collective effort to end global poverty.
In Sub-Saharan Africa, there are more than 50 million families earning a living from small farms that produce 80% of the continent's food. We talked to World Bicycle Relief, One Acre Fund and myAgro, three of our partners organisations that work in Zambia, Rwanda and Senegal, providing farm families with knowledge, tools and inputs to earn a sustainable living income and supply their communities with nutritious food.
WORLD BICYCLE RELIEF: EXPANDING FARMERS' ACCESS TO MARKETS IN ZAMBIA
It's a crisp, early morning in Palabana, Zambia. The sun is rising over the horizon and dozens of dairy farmers arrive at the Palabana Dairy Cooperative to deliver large cannisters of fresh milk, secured on the back of their Buffalo Bicycles provided by World Bicycle Relief.
This organisation has partnered with communities in the Palabana region of Zambia since 2008, providing bicycles through the cooperative's employee purchase programme – a low-risk model enabling farmers to acquire a bicycle that increases their productivity and quality of life without any up-front capital.
Since farmers were given access to their bicycles, delivery rates have increased 25%, earnings have increased by 23% and travel time to the cooperative has reduced by 45%. 95% of farmers supported by World Bicycle Relief have used the Buffalo Bicycle to better the lives of their families and communities by sharing them with others to access education, healthcare and social networks.
World Bicycle Relief's country programme director in Zambia, Brian Moonga, shared more about the context they are working in: "Many families in Zambia have few or no means to afford reliable transportation. We can offer sustainable financing options to pay over time and expand access to strong and sturdy bicycles that can carry heavy loads across rough terrain."
Rural transportation and mobility are often overlooked in global development programmes that aim to improve farmer livelihoods. Farming methods that produce high-quality seeds, modern fertilisers and innovative farming practices that boost yields and incomes are simply out of reach for the majority of Zambia and Africa's smallholder farmers. These farmers often live far from the nearest accessible road and may never be visited by an agricultural extension agent. Susan Bornstein, global director of institutional partnerships, and influence at World Bicycle Relief pointed out, "The relationship between access to transportation, poverty and agricultural production is clear; the farther farmers live from markets, the harder it is for them to access income generation, the less they are incentivised to invest in their farms and the further they are from financial and food security."
Susan added that there are now partnerships in Zambia that have greatly improved between government, communities and partner NGOs like World Bicycle Relief who are working together to improve rural access to critical services and opportunities.
Susan and her team are optimistic about the future: "Nearly one billion rural people risk being left behind because they live in communities where education, healthcare, jobs, markets and other critical services needed to end the poverty cycle are simply out of reach. Our long-term vision is to inspire funders and competitors to scale the availability of quality bicycles to address a dire need that could benefit people around the world, particularly women and girls."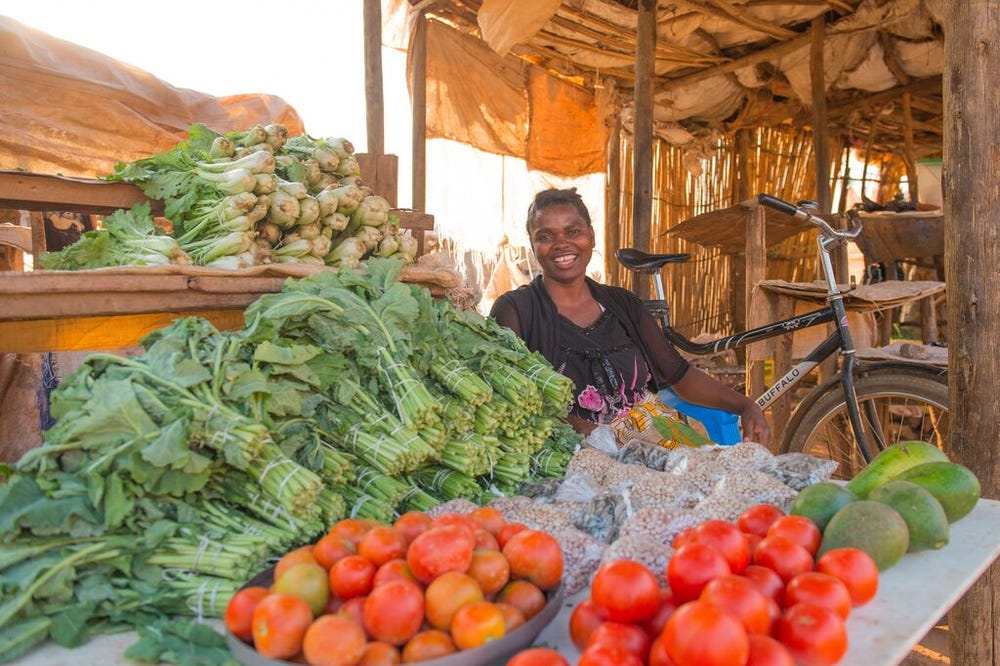 ONE ACRE FUND: SERVICE PACKAGE TO SUPPORT FARMERS IN RWANDA
A threat to the livelihoods of Rwanda's smallholder faming population is soil degradation; Rwanda has some of the highest erosion rates in the world as a result of its undulating hills, high rainfall and dense rural population. Many farmers have no choice but to cultivate soils that are depleted and acidic due to overuse and limited integrated fertility management.
One Acre Fund's Rwanda programme, their second oldest, supports these farmers with an integrated bundle of services, including loans, seeds, training and improved access to markets. This leads to larger harvests over two annual growing seasons, providing farmers with a firm foundation to earn more money over the long term.
"Smallholders are the majority of the world's poor and key to achieving the Sustainable Development Goals," declares Ross Miranti, senior manager of business development at One Acre Fund. "Instead of giving handouts, we invest in farmers to generate a gain in farm income."
Just one of the farmers One Acre Fund has enrolled in their programme is Speciose, a 62-year-old farmer living with her daughter and two of her grandchildren in the Rwamagana district. Speciose's harvests were mediocre and she relied upon the support of her family to make ends meet. She enrolled with One Acre Fund's core programme in 2019 and learned about good planting practices, the use of improved seeds and fertilisers.
"I harvested 1,000kg of maize for the first time and was able to get enough to eat and a surplus to sell to the market," she said. After renovating her house, she has now shifted from asking her family for help to providing for them, including buying a sewing machine for her daughter.
"It is important to consider how all of the pieces fit together in a smallholder agricultural system —finance, farm inputs, value chains, private sector, the government — multi-sectoral partnerships and approaches are needed to influence positive change at the systems level," Ross commented on the challenges One Acre Fund that face, but finds fulfilment from the fact that "the Rwanda market is where we are having whole-market impact. One Acre Fund is reaching farmers in every village of the country via multiple overlapping programmes." One Acre Fund is reaching over 700,000 smallholder farmers and more than one million additional clients through partnerships focused on mass tree distribution, seed production, agricultural input shops and market access for commercial crops.
This collective approach means that One Acre Fund can be ambitious in their long-term goals: "Our vision for 2030 is that our impact will be visible from every farmer's home. This is in line with the Government of Rwanda's vision 2050, which establishes a framework for Rwanda to become an upper middle-income country by 2035 and a high-income country by 2050, whereby agriculture will play a big role through transformation that is equally led by both male and female professional farmers and commercialised value chains. We are realising this programme vision and contributing to Rwanda's 2050 vision through creating pathways for farm families to reach prosperity, partnering with the public and private sector to fix the gaps in the agriculture value chains and strengthening the food systems so that farmers and communities can truly benefit from them."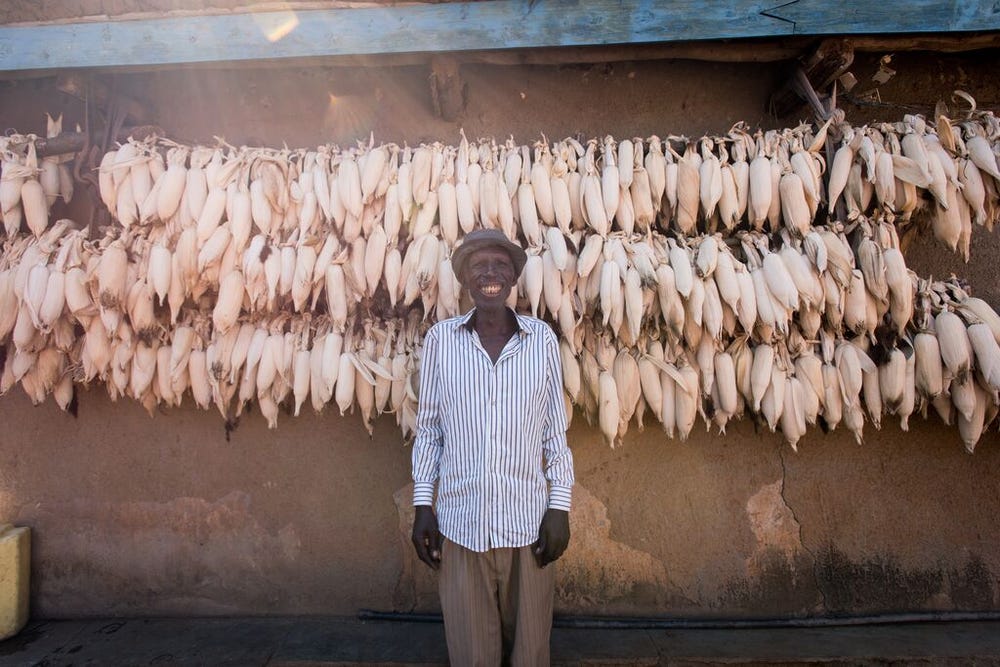 MYAGRO: BOOSTING FARMERS' CASH FLOW IN SENEGAL
According to the World Food Programme, over a third of Senegal's population live below the poverty line and 75% of families suffer from chronic poverty. Moreover, the majority of poor smallholder farmers do not have access to credit, meaning they barely have enough money to purchase the seeds and fertiliser they need to grow food and earn income. Global challenges, including supply chain issues and inflation, have resulted in fertiliser costs growing by an unprecedented 50-300% over the past year and a half.
myAgro's mobile layaway platform – enabling farmers to contribute incrementally to their account and purchase a package of high-quality seeds, fertilisers, insurance and training, a little at a time – and 'Village Entrepreneurs' – people hired and trained by myAgro to enrol farmers with the organisation – offer a pathway to overcome poverty and food insecurity. According to an external survey that myAgro shared with us, 98% of farmers do not have an alternative to the organisation's services.
myAgro puts special emphasis on climate resilience. Temperatures are expected to increase 1.5 times faster in West Africa than anywhere else in the world, but as myAgro observe, "This problem becomes more manageable if we break it down into micropayments. Our seeds are proven to significantly increase harvests per hectare and, as a result, farmers are able to increase their access to food and income. With more income, farmers become more resilient to climate shocks and can weather unpredictable effects of climate change like shorter growing seasons and less rainfall.
While small scale farmers did not create the problem of climate change, they are increasingly facing the devastating impact. Our global, urgent challenge in the next decade is to help them make their farms climate resilient – and they need to be able to reliably invest in the tools they need to succeed."
Despite the challenges associated with climate change, myAgro takes pride in the spill-over effects of their assistance: "With the extra income farmers earn, particularly women, they are sending their children to school, improving their homes, investing in the health of their families as well as other business activities."
One such farmer is Ami, a wife and mother of eight who has farmed for over 20 years in Keur Amaare Bakhoum. After joining myAgro in 2017, her hibiscus harvests swelled from five to 40 bags. Ami's resulting prosperity means she can now support her family and save for the future. Ami said, "When you're farming, you have to think about your children's future, what they eat and be able to save in case they need something."
To increase enrolment of female farmers who typically face more challenges in getting access to the land and thus earn less income, myAgro recently partnered with experts at the Consultative Group to Reach the Poor to deepen their understanding of women's needs and design programming, products and solutions to address them: "For example, myAgro has developed packages that include more nutritionally dense food as women are keenly aware of ensuring their children have access to healthy food. MyAgro also holds recruitment and training events at times that work well for women so they can balance it with their other household responsibilities."
myAgro reached 115,000 farmers in 2021, but ambitiously aims to serve one million by 2026, the majority being women. The organisation clarifies that "most of our growth will take place in Senegal. We aim to reach more farmers in the areas that we already work in and expand into new zones and regions throughout the country."