Empowering women through education
Here's a brief overview of how we, with our partners, are making a difference for girls and women across the globe, from pre-school to university.
In many countries, girls don't have equal access to education. Globally, millions of girls miss out because their families and communities don't believe they should be educated or require them to do domestic tasks, work or even force them into marriage. Yet just one year of secondary education can increase a woman's wages by 25% later in life according to the World Bank. The climate scientists in Project Drawdown ranked girls' education as the sixth most effective strategy for curbing climate change, ahead of increasing solar farms and electric vehicles.
Here's a brief overview of how we, with our partners, are making a difference for girls and women across the globe, from pre-school to university.
AFRICA'S BIGGEST CLASSROOM
When people think about education in Africa, they often picture crowded classrooms with hardly any blackboards or learning resources when the truth is that Africa's biggest classroom is digital.
Ubongo is a non-profit social enterprise which makes and disseminates edutainment cartoons that entertain kids while helping them learn. Millions of families across 41 countries have benefited from its free programmes, which can be followed on television, radio and mobile phone.
One of its cartoon series is Akili and me, in which Akili enters Lala Land every night when she falls asleep and learns things with her animal friends. Results have found that children who watch Akili and me show a 13% improvement in early cognitive skills, including literacy and numeracy. In Tanzania, children who regularly watched Akili and me subsequently for 12 weeks showed a 27% increase in shape recognition and a 24% increase in counting ability. Regular viewers also became more successful at naming emotions and identifying effective problem-solving strategies.
A mother of three from Côte d'Ivoire described how her daughters aged 6, 8 and 12 have benefited in several ways from watching Ubongo cartoons: "My girls get together more, which has strengthened their sisterhood. They are better at English, too, and all their learning is going well. They speak highly of the programmes."
Ubongo has produced several series to help adolescent girls develop their financial literacy. Watching them has had significant effects on girls' life skills, helping them learn about and gain confidence in saving, budgeting and preparing for economic emergencies, thus potentially enabling them to stay in school through having set aside money to cover their fees.
By having a female lead character in Akili and me, as well as gender equality content about women and men being able to do whatever jobs they want, Ubongo also has a positive influence on perceptions and behaviours regarding gender norms and girl empowerment.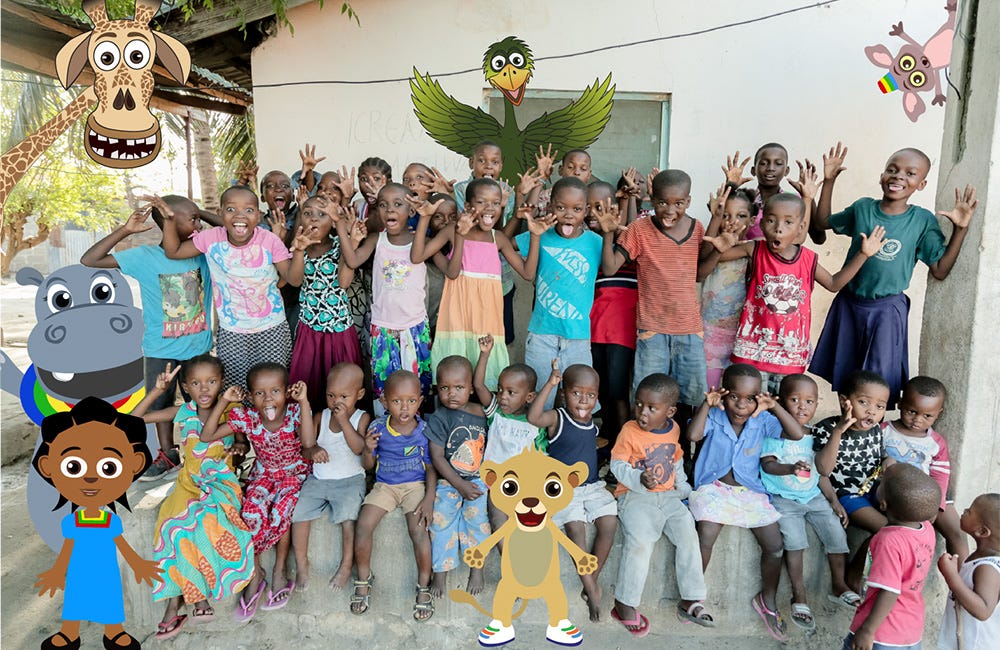 BRIDGING THE GENDER GAP IN RURAL INDIA
As girls get older, the pressures to help in the home or to work steadily increase and education is often reduced or stopped altogether.
Thirteen-year-old Anjali* from a remote village in Madhya Pradesh, India, dropped out of school to help on her family's farm when she was 8. She loved reading and writing, but her family believed she should work on the farm to reduce costs.
However, Anjali's father was later persuaded to allow her to attend two hours of Camp Vidya, a community-based learning initiative of Educate Girls, a non-profit that works with the Government and communities to bring out-of-school girls living in remote and rural parts of India back into mainstream education. Camps like Camp Vidya, which started during the pandemic, give an opportunity to children to study in the absence of regular schooling so that their learning doesn't stop. Now that schools have reopened Anjali and other girls from the village have enrolled and attend school regularly.
"I love studying maths," says Anjali. "I couldn't write a word when I first went to the camp, but now I can write whole sentences and do sums. I even help my father with his calculations. I am excited to be going to school again after five years!"
Many thousands of girls like Anjali have been able to continue their education thanks to Educate Girls, which has reached more than 20,000 villages in rural India.
"We have an army of over 20,000 community volunteers," says Safeena Husain, Founder and Board Member of Educate Girls. "Using predictive analytics, we identify, enrol and retain out-of-school girls in the most marginalised areas. Poverty, patriarchy and illiteracy intersect, meaning girls either never enrol in school or they drop out."
"Gender disparity is not just about education," she explains. "It's a much deeper mindset issue. People see a goat as an asset and a girl as a liability. Education is one way to break this mindset."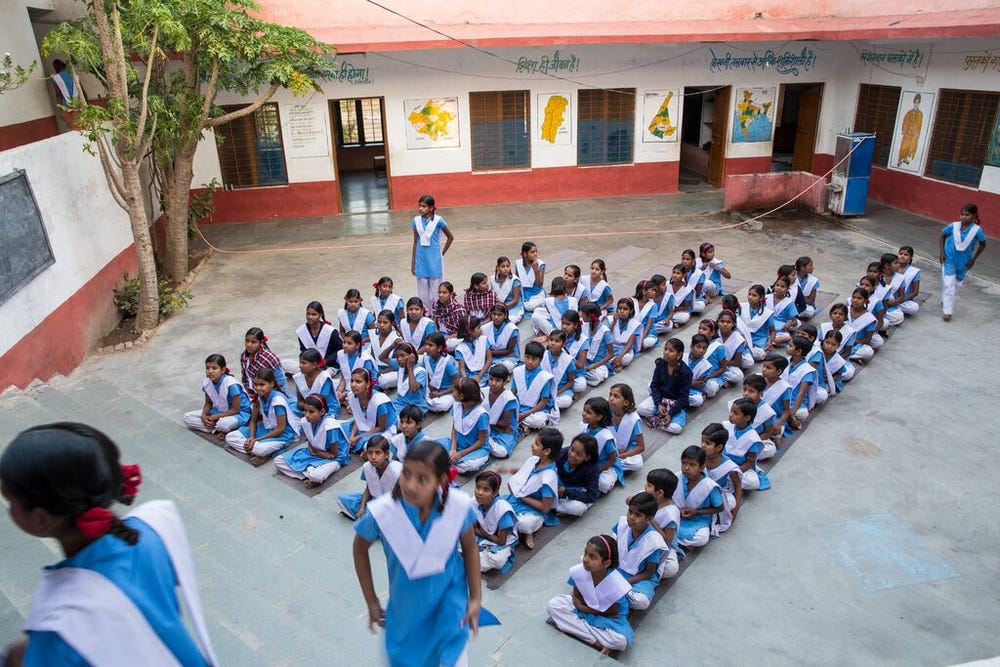 ROOM TO READ AND DREAMS TO GROW
The barriers to a girl's education – such as cultural bias, gender discrimination and safety concerns – become even more pronounced when she becomes a teen and reaches secondary school. This makes it crucial to have education programmes that specifically target girls.
Room to Read is a global non-profit creating a world free from illiteracy and gender inequality through its literacy and education programmes. It has benefited more than 32 million children and has worked in 21 countries and in more than 49,000 communities so far. As well as helping primary school pupils to access books and reading, it works with secondary schools through its Girls' Education Program.
"The Girls' Education programme was founded on the belief that educated women can change the world," says Dr. Geetha Murali, the Chief Executive Officer of Room to Read. "Whether or not a girl stays in school has an astounding effect on her quality of life and that of her family."
Senghong Vet is a 16-year-old from Cambodia who started on the education programme in 2016. She's now a published author. "I'm the only one in my family who has studied to 11th grade," she says. "I hope to continue writing stories and be a role model for other children. A lot of girls don't have that opportunity. We need to support them to achieve their dreams."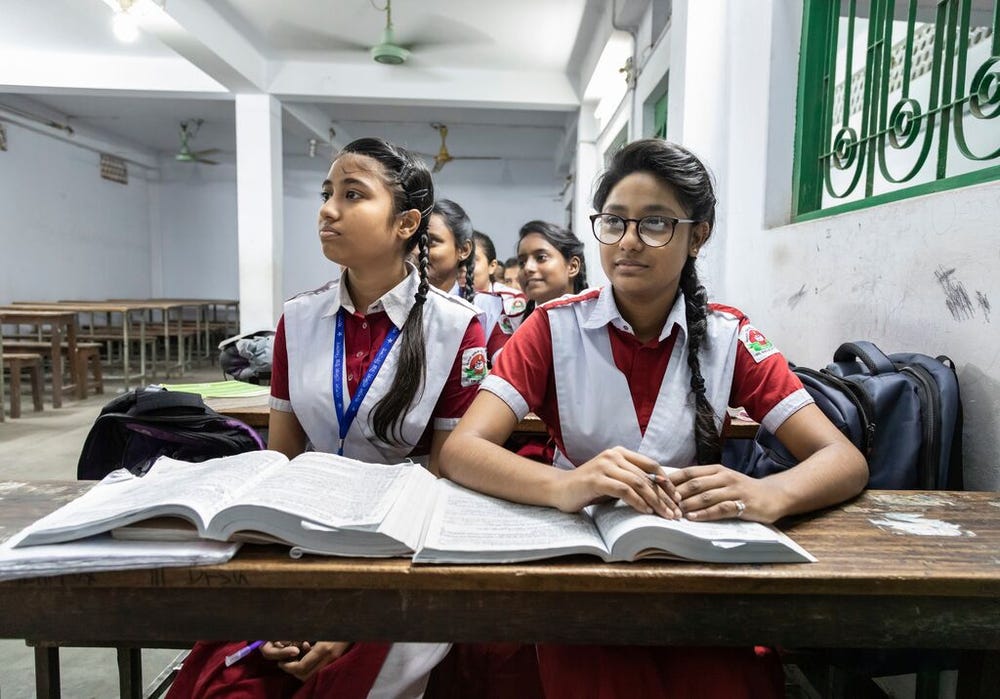 A UNIVERSITY JUST FOR WOMEN
If girls make it through secondary education, what's next for them?
The Asian University for Women, based in Chittagong, Bangladesh, aims to educate and empower women of all backgrounds to become leaders.
"In the developing world, women's talents are rarely cultivated," says Kamal Ahmad, founder of the university. "I wanted to create an institution that would target them and nourish their talents.
"We are keen to accept the least likely candidates, such as refugees or industrial workers. We take women from families who have never sent anyone to university. If you have intellect, it doesn't matter if you have shoes.
"Leadership, courage and empathy are important. We want these women to have extraordinary impacts in their communities."
One such example is Layla from Pakistan. The first girl in her village to go to university, she is now a powerful documentary filmmaker and the founder of media production house Reality Beyond Dreams. Through her documentaries and narrative films, she sheds light on marginalized voices in Pakistan and addresses women's issues, human rights concerns, and the social impact of climate change.
A degree from AUW equips women with the necessary tools to pursue their passions and to put their liberal arts degree into action by enacting change within their communities and across the globe.
Whether they become authors, filmmakers, community leaders or construction workers – whatever they want to be – women who have had access to education from an early age are likely to earn a higher wage and have fewer and healthier children. Not only does education change their world and the lives of their children and future generations, but it also changes the world we all live in for the better.
* Name changed for privacy