Constant emergency
How development non-profits operate on the edge of complex crisis.
At Cartier Philanthropy we work with inspirational relief organisations who exist to tackle the world's toughest crises, offering support to the people in greatest need.
However, this isn't the core of our work. We primarily partner with development non-profits set up to provide basic services, such as access to water, education or primary health, in the poorest regions of the planet. These organisations sometimes find themselves operating in a periodic or continuous emergency situation and providing emergency relief due to armed conflict, political instability, increasing violence or repetitive natural hazard shocks – on occasion even facing all of those factors simultaneously.
We spoke to our partners SOIL, Muso and Proximity Designs, three non-emergency organisations operating in Haiti, Mali and Myanmar, to understand how they rise to the challenge of their arduous operating contexts.
SOIL: PROVIDING SANITATION SERVICES IN HAITI'S BATTERED REALITY
Haiti has been experiencing a very prolonged humanitarian crisis, almost from the moment colonisers arrived on its shores in the early 1500s and ushered in centuries of slavery. Largely as a result of its unique post-colonial history, Haiti's people are some of the most impoverished and vulnerable in the world, experiencing successive and simultaneous crises. They also lack basic infrastructure, with limited electricity supply and gas shortages, a reality of everyday life which contribute to uncontrolled inflation. Widespread extreme poverty and lack of opportunities drive increasing violence from groups of armed individuals and acts of desperation like kidnapping for ransom.
SOIL, a Haitian non-profit research and development organisation, was set up in 2006 with the goal of addressing the country's sanitation crisis. Only 30% of its population has access to toilets and hand-washing equipment, and less than 1% of human waste is safely treated, which spurred one of the most severe cholera epidemics in recent global history. SOIL's circular economy approach provides toilets, collects and treats the waste, then transforms it into compost, which is then sold to support agriculture, reforestation and climate change mitigation efforts. So far, over 11,000 people access toilets through SOIL's growing urban sanitation service.
Dr Sasha Kramer, who co-founded SOIL and is now its Executive Director, is frank about the challenges her team experiences day to day. She explains, "Part of the challenge in working in Haiti is this uncertain categorisation of what type of context you're working in. We're working on the edge of emergency response and development and always trying to promote long-term development initiatives. But often, those tools that we use for development do not work the same in a humanitarian context. We want to be ambitious about expanding our impact and that will always be our north star. At the same time, there are moments when the ability to continue providing a service or even just to stay in operation and not close down is a real testament to the courage and the hard work of our team."
Sasha believes that having a local team is key to SOIL's successes so far. She expands, "Most of our staff have been with us for over 10 years and are from the communities we serve. They are truly committed to SOIL's work. It is their life's work, and they built it – we've built it together. There are so many benefits to having a local team and working in the local language. Even during periods of high security risk, we don't have to consider evacuating our staff because this is their home. They can also negotiate difficult situations in a way a non-Creole speaker cannot."
Originally from the US, Sasha fell in love with Haiti 17 years ago and has never looked back. "What I love about our work is that we're able to provide access to a truly essential service. The dignity and comfort and safety of having access to your own toilet can really make an impact on people's lives."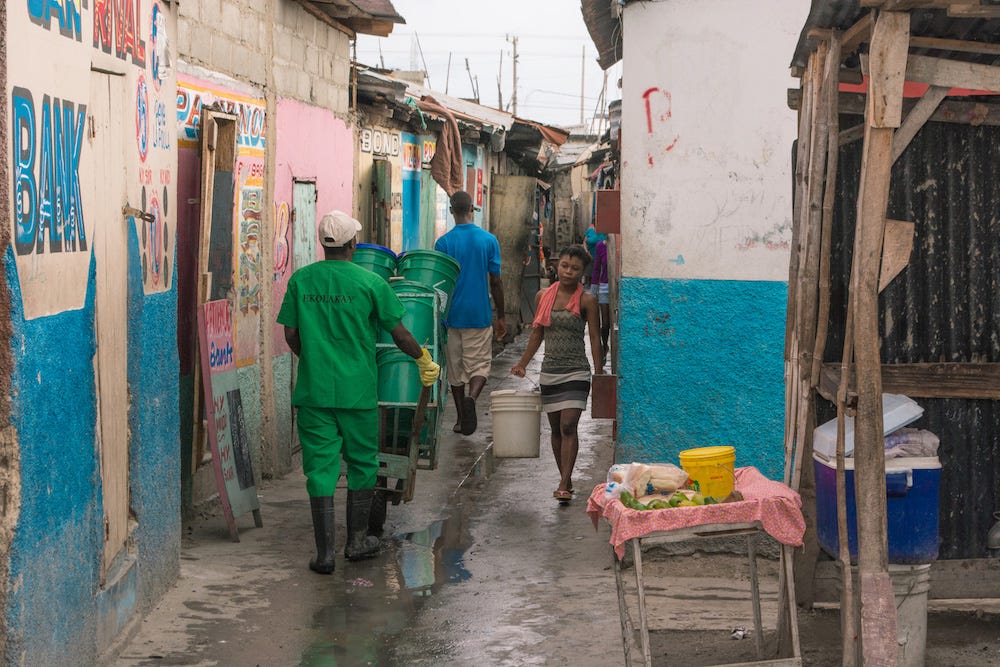 PROXIMITY DESIGNS: SUPPORTING SMALLHOLDER FARMERS THROUGH ESCALATING CRISES
While Proximity Designs is also not a traditional emergency response organisation, Myanmar has never been an easy place to work. The country's development has been fragile, complex and nonlinear, with six decades of military rule, self-isolation, ethnic conflict and extreme poverty attempting to erode the resistance of its people. Electricity blackouts, rapid inflation, cash and fuel shortages are now an everyday reality.
Debbie Aung Din, the co-founder of Proximity Designs, told us, "Today, we are facing our most challenging period in our 18 years of operating. Myanmar is caught in a pile-up of multiple crises: health, economic, human migration, political instability and climate change. Smallholder farm families who form the backbone of Myanmar's economy, are being disproportionately affected by these urgent and intersecting problems, threatening the food supply system and food security for Myanmar's 55 million people. In a practical sense, we are working in the context of a slow on-set emergency."
This social enterprise provides farming technology, agronomy services and financial support to help small farmers become more productive and earn higher incomes. At the same time, the organisation's extensive on-the-ground presence and flexible operational model uniquely positions them to continue to serve vulnerable rural families during extremely precarious circumstances. In the immediate aftermath of Cyclone Nargis, which hit the Ayeyarwady River Delta in 2008, the organisation shifted gears and employed its distribution network to deliver emergency aid to 2.5 million farmers. Over the past few years, against a background of the global pandemic starting in 2020, the military coup in early 2021 and the resulting economic crisis alongside warfare and insecurity, the team has continued to pivot its operations to serve small farmers and respond to their evolving needs.
Alongside the many challenges plaguing the country and making it a difficult place to work, there is a lot to appreciate too. Debbie says, "We work with people and communities who experience extreme isolation, neglect, weak governance and low levels of trust. When our customers trust us and value our products and services in this context, and their lives and farms benefit from them – it is very rewarding to know we're having a real impact, especially during times of crisis when rural communities have little access to essential goods and services."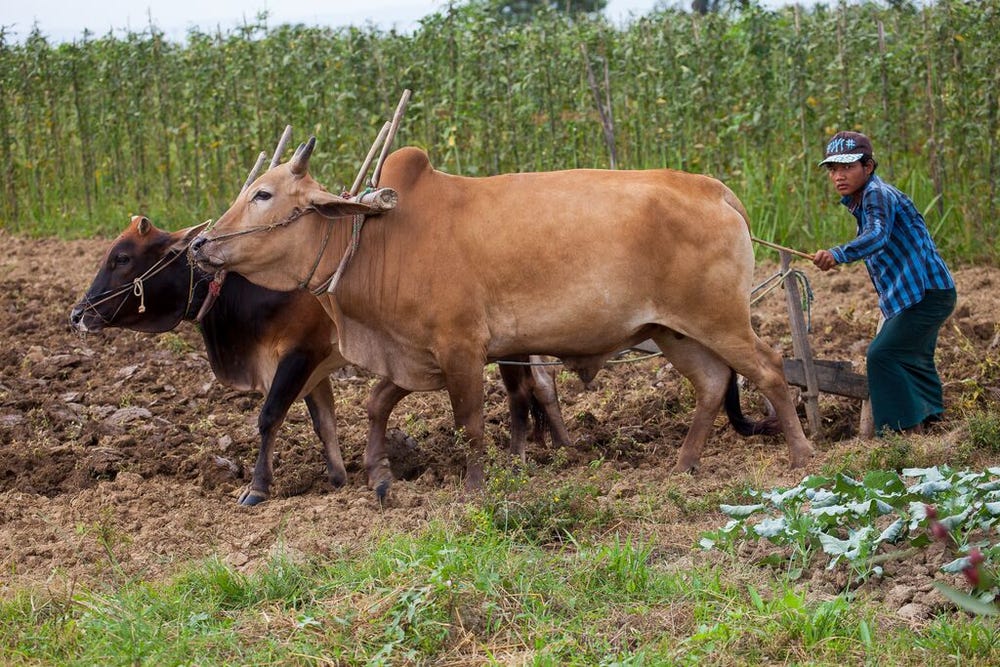 MUSO: TACKLING DELAYS TO ESSENTIAL HEALTHCARE IN AN ACTIVE CONFLICT ZONE
When Muso and the Malian government co-launched their first Rapid Care health programme in 2008, Mali was a peaceful, stable, multi-party democracy, albeit one at the epicentre of the global child and maternal mortality crises. In 2012, a destabilisation across the Sahel precipitated the occupation of Mali's north by armed extremist groups and a coup d'état. Since then, a growing conflict zone has consumed not only northern but also central Mali. Today, nearly half the patients the organisation serves live in an active conflict zone.
Dr Ari Johnson, co-founder and CEO at Muso, explained, "Muso did not set out to become an emergency response organisation, but our work has taken us to the patients who most need our partnership, including those in conflict zones. Over time, our patients taught us: the world's leading cause of death is not a disease. Delayed care kills more people than any single malady. The later that a child gets care or treatment for diseases like malaria, diarrhoea or pneumonia, the more likely that child is to die. So the Muso team made a commitment – to cure delay, the world's leading cause of death."
"When conflict arrived in the communities we serve, we asked our patients what they needed most. Their answer was simple and clear: stay. This guidepost has helped ground our team in what our patients need as we navigate a complex landscape.
"Conflict exacerbates delays to essential health care. In war, most of the victims are children. Infant deaths due to conflict – when they're blocked from health care and nutrition – outnumber all other deaths from direct violence 3:1. 40% of under-five child deaths, or two million child deaths each year, occur in fragile contexts. We cannot end the child mortality crisis, we cannot cure delay, without also delivering for every person who lives in conflict-affected areas. We cannot leave them behind."
Just like Sasha experienced in Haiti, Ari's heart was captured by the spirit of Mali's people. He told us, "Mali is the most welcoming place I have ever lived and worked in. To live in Mali is to experience an effervescent hospitality. As you cross the street, a neighbour might call out to invite you to share a meal. In Mali, families who do not have enough to feed themselves have tried to feed me. The welcome I have received by my Malian neighbours has redefined to me what we as humans are capable of giving to each other, of committing to each other."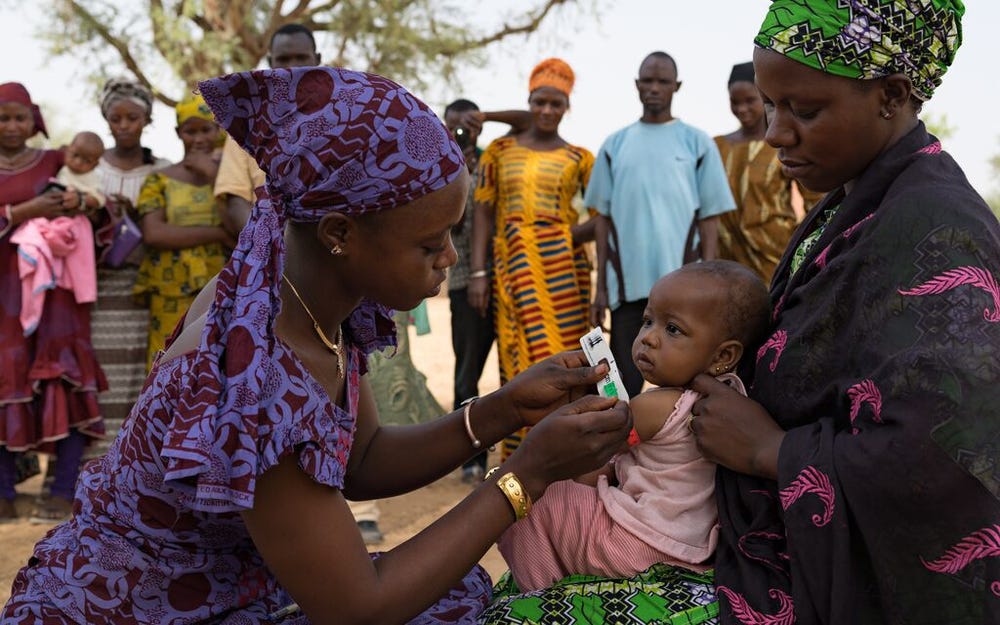 MANAGING THE RISK OF BURNOUT
Burnout is a risk in many roles, but tackling the seemingly insurmountable challenges faced by the world's most vulnerable people elevates this risk. Sasha recounts, "In a prolonged humanitarian emergency, you're usually feeling very high or very low. You're never in the middle, it's a series of peaks and troughs. The lows are, of course, very low, the challenges are very hard. But that means that the successes are extraordinary. This constant oscillation certainly can create the risk of burnout but the successes – even ones that seem small – bolster you."
She continued, "I would advise other organisations working in similar emergency contexts to be gentle with yourself as much as you can, or if that's hard, be gentle with your colleagues. We are constantly setting targets that we believe to be both ambitious and realistic. But we know it is inevitable that there will sometimes be unplanned events, that may mean that we can't meet those targets. With donors, or external supporters, my advice would be to be very transparent, always. Don't try to sell a fairy tale of the possible. Explain to them, let them in, help them to understand the challenges that you're dealing with, work together with them to set expectations and then stay in very close touch so they can help you to work through the toughest times."
Proximity Designs have many processes in place to support their staff and shield them from burnout as much as possible. Debbie describes, "Burn-out is absolutely a risk when our team is working with continuous waves of crises, with intense mental and emotional strain. The current political crisis and violent conflict also contributes to our staff's underlying sense of insecurity, even when they are in their own homes. It is important to keep a pulse on how our team and individual staff are feeling, so we conduct organisation-wide surveys and have managers and senior leaders do regular personal check-ins. Once we understand the state of our team, and what support they need from us, we put programmes in place to respond. This is not a one-off, but a process of continuous checking and response."
Ari also shared advice for other organisations working in analogous circumstances. He recommended, "Build long-term relationships with partners, including governments. Muso works through the public sector, serving as a long-term partner to governments. We collaborate with both political appointees and civil servants at all levels of the health system, from national and regional levels to district and local levels. Even during political upheavals, major transitions, and conflict, civil servants can play a heroic role running government healthcare systems. They need our partnership. When we partner with the government, we commit to accompanying many local, district, regional, and national civil servants doing this work. This approach allows our work together to continue even and especially in moments of conflict, crisis, and upheaval."