The power of choice
Contraceptives are known to be the greatest life-saving, poverty-ending, women-empowering innovation created. Control over pregnancy gives women control of their lives. This is Dial Faye's story.
Travel through north-western Senegal and you'll find sand tracks leading away from the asphalt main roads down to small villages where life follows the rhythms of agriculture and cattle markets. White concrete houses covered in antennas and solar panels sprout from the acacia-speckled plains.
Dial Faye lives and works in one of these villages, 200 kilometres north of Dakar and about 50 kilometres from the Atlantic coast. At 26, she's now a mother of two. One sunny morning four years ago, her first child peacefully asleep on her back, Dial decided that she wanted to go on birth control to postpone a second pregnancy. It was a major life decision and she was looking forward to it.
"I knew I wanted to finish school so I could provide for my family. I was worried, though, by the many rumours going around. Would family planning cause infertility in the long term? Would it make me gain weight? What complications should I expect?"
The use of contraception is a deeply entrenched taboo in Senegal. Misconceptions about it have circulated for decades and still permeate today's society so that only 23% of women and girls use modern contraceptive methods. In rural areas like the Louga region where Dial lives, the figure is even worse and less than one in five women use birth control. Men are often in charge of such decisions and tend to consider family planning not permitted by religion. Dial was lucky.
"My husband wanted me to finish school and take care of my health. He encouraged me to see a midwife". So, on that sunny morning, Dial could meet her midwife openly and discuss the options on her own terms with her husband's blessing. But she is an exception. Many girls, particularly teens, still need to consult covertly, if they consult at all.
Dial's only opportunity to obtain a modern contraceptive was provided by one of the MSI Reproductive Choices' mobile outreach teams, which have been providing high-quality information and counselling together with voluntary short and long-acting contraception for women and girls in Senegal since 2014. Access to contraception and reproductive health services, and standing up for women's right to choice and bodily autonomy is at the heart of this organisation's work. In every district visited, the mobile teams operate in public health facilities, schools and villages to ensure maximum coverage. The services of all 11 mobile outreach teams are free of charge.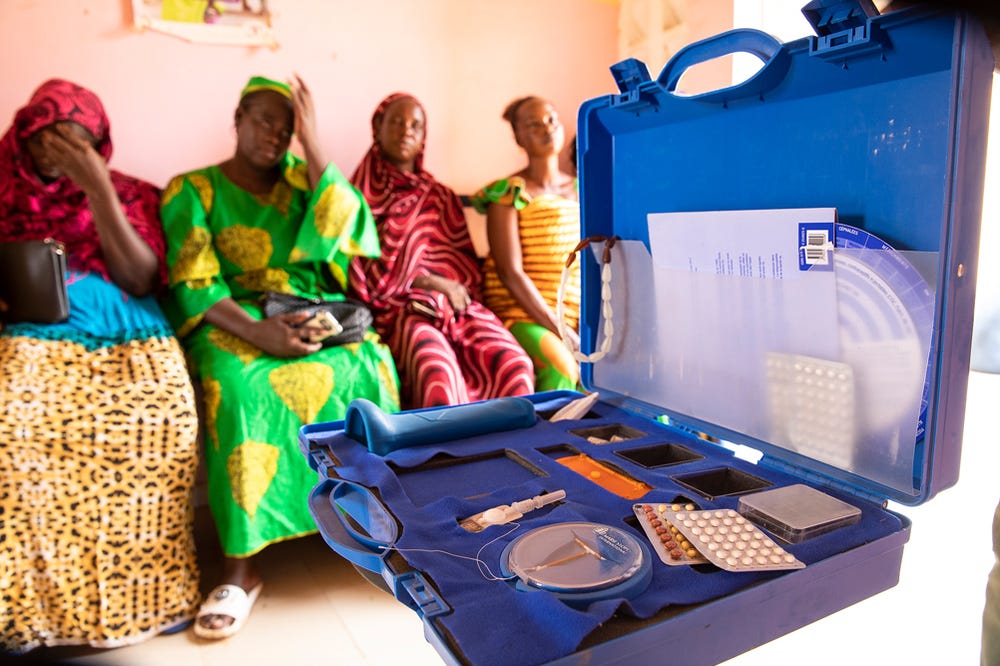 Access to reproductive choice can be transformative in a woman's life. Dial couldn't have guessed how much and speaks about her accomplishments with amazed pride today.
"After talking with the midwife, I chose to have a contraceptive injection (the number one type of contraceptive used in Senegal is an intramuscular shot that a woman gets once a quarter). Over the following two years I got an accounting assistant degree and a leadership degree, and was also able to do all the internships required to validate my degrees.
"When the time felt right and I was ready to have another child, I stopped the injections and soon became pregnant again. After giving birth to my second child, I went back to see the outreach team in Louga to get an IUD and give myself time. Since then, I have been able to start a small business and take care of my two children without problems."
Contraceptives are known to be the greatest life-saving, poverty-ending, women-empowering innovation created. When girls and women have access to high-quality family planning, the number of untimely and unwanted pregnancies decreases, maternal mortality and morbidity rates fall, child health progresses and women's socioeconomic status advances.
Control over pregnancy gives women like Dial control of their lives and thus the ability to impact the future of their families and communities.
Over 230 million women and girls want contraception but have little or no access to it. If left unchecked, this number will increase to over 300 million by 2030.
We have been supporting MSI Reproductive Choices' outreach strategy in Senegal since 2018 in an effort to increase contraceptive prevalence in the country. For many women in remote areas, MSI's outreach teams are the only opportunity.