The empowering journey of education
If we want to dismantle the architecture of inequality and discrimination, we need to address its multiple layers, supporting women and girls in their fight to gain the places that are theirs by rights. It all starts with educating a girl.
"I have a big dream. People often laugh at me when I say what it is, but I tell them anyway". Razia smiles broadly, almost as if smiling could help her sustain the courage to speak up. Her gaze is kind yet firm, her words gentle yet vibrant with determination.

The youngest of a large family from Kabul, she wants to get a Master's degree at Oxford and then return to her home country, Afghanistan, to build her own business, helping Afghan women who never had the chance to go to school and learn.
"It starts with educating a girl, and hopefully ends with a woman leader" said the former Australian Prime Minister Julia Gillard. Razia's big plan bears similar testimony to the empowering and truly transformative journey of education.
Razia is one of the almost 2,000 students and alumnae of the Asian University of Women (AUW) in the city of Chittagong. Built on the liberal arts tradition of top American women's colleges, international in outlook but rooted in its Asian context, the Bangladeshi-based institution is quite a unique environment, where art, technology and civic engagement permeate every room.
"We want to cultivate a poet's sense of imagination," says AUW's founder Kamal Ahmad, "and an engineer's knack for getting things done."
An all-female institution, AUW enrols talented young women from under-resourced communities in Asia and the Middle East across a broad spectrum, from the daughters of microfinance borrowers to labourers from tea plantations and clothing factories, the graduates of Islamic madrasas and the residents of remote mountain villages that have never sent anyone - let alone a woman - to college. Students born into religions that have been at odds for generations share the same corridors and debate social norms, rules and laws in the same classes, learning to aim high and, along the way, change the world for the better.
With an emphasis on critical thinking, leadership skills and problem-based learning, AUW equips these young women for careers in which they can potentially affect policy, governance structures and other people's lives, mostly in their countries of origin. Experienced as a once-in-a-lifetime opportunity, the pressure these young women feel gives them grit, perseverance and a certain defiant sparkle in their eyes.
"I feel like I'm representing all the Afghan girls that can't go to school. I'm studying for them and will go far for them" says Masuma, Raza's friend and also a student at AUW. "I already have an idea for when I return home. I'd like to build an export business that involves saffron, Afghanistan's 'red gold'. Here in Bangladesh, saffron is extremely expensive, a luxury good, really. Afghanistan is becoming the third-largest saffron producer in the world. I see an opportunity. Besides, today it's a man-business and I want to make it a women-business too."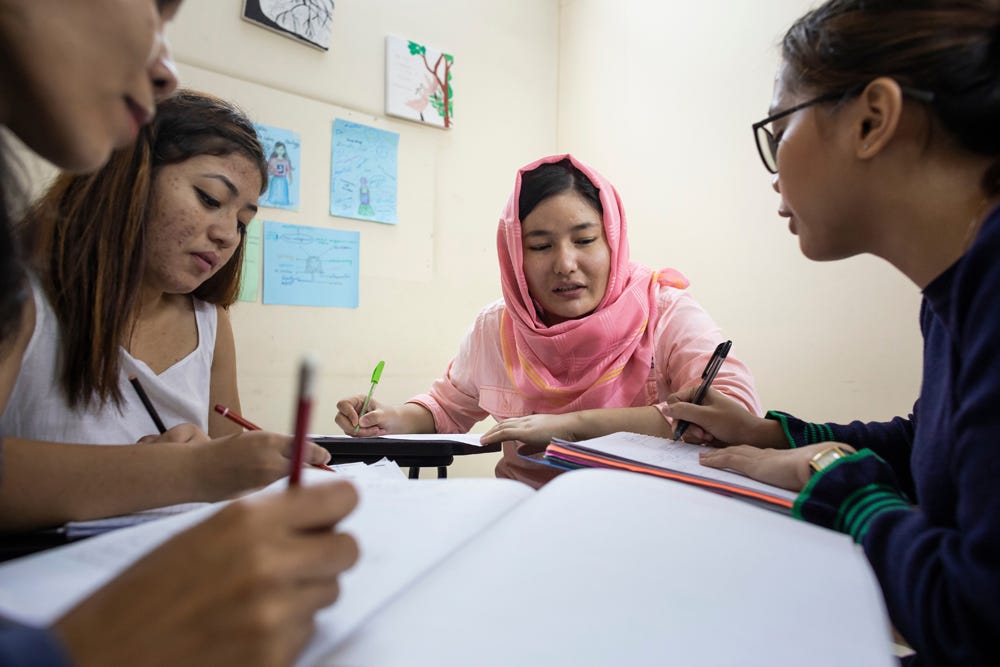 A particularly powerful aspect of the AUW model and approach is that the institution by its very nature challenges the notion that poor people should receive just basic schooling and nothing more transformative, never mind a university education.
The higher education of women like Raza and Masuma has the potential to do more than disrupt the stereotypes and traditional social norms that mean girls still face the worst forms of exclusion and discrimination. It also has the power to transform the global landscape irreversibly, influencing the trajectory of our collective future as it fosters innovative, socially engaged and civically active individuals.
This is how the AUW Class of 2019 graduates chose to express it, celebrating their achievements and looking to the future:
"We are sisters and daughters of the forgotten souls of an unjust world. Rising above all towards a new beginning like a wind that knows no border".
"We believe in standing up to discrimination; in pioneering a real Utopia, a world where gender, race, religion and social issues are no longer barriers to who we truly are. We believe in disagreements; in voicing our true opinions to perfect the imperfect world."
Cartier Philanthropy is providing twenty young women from disadvantaged backgrounds across Asia with full scholarships to obtain a university degree empowering them to take fuller control of their lives and break out in patriarchal societies.