Focusing on needs, not fear
Room to Read began 2020 with the promise of the celebration of its 20th anniversary year. Then the pandemic struck.
The COVID-19 pandemic drastically impacted the opportunities for many students to learn, but also created openings for innovation, rethinking and collaborative efforts to sustain education in very challenging circumstances.
Room to Read is a global non-profit organisation focused on eradicating illiteracy and gender inequality through education, operating in 20 countries with 27 legal entities and branches. Cartier Philanthropy is supporting its work in Bangladesh and Cambodia with a multiyear grant that is helping empower over 4,300 girls, giving them the opportunity to complete secondary school, gain the skills to negotiate key life decisions and achieve their full potential.
Room to Read began 2020 with the promise of celebration as its 1,600 staff members around the world approached the major milestone of supporting 20 million children during its 20th anniversary year. Then the pandemic struck.
"Most Room to Read staff work in an environment that, for many of the children we serve, is the only beacon of safety and stability in their lives – school," writes Geetha Murali, CEO of Room to Read. "In early 2020, in a matter of weeks, the central building block of Room to Read's work, the state school, became increasingly paralyzed and inaccessible to students".
Whereas many educators saw online learning as THE solution, Room to Read knew that most of the children they serve simply wouldn't have either the resources or support needed to continue learning at home. How could they, when they had not even had them at school?
As Geetha Murali explains: "Children would have to continue learning if we were to ensure that a generation of students was not lost to the biggest education emergency in modern history. We had to be daring and called on our entire network's collective intelligence to take action".
The organisation consequently re-engineered itself from end to end to mitigate the risks to children's education, responding with powerful flexibility in multiple ways:
PROACTIVE PARTNERSHIP
In Sri Lanka, the Ministry of Education was unable to print and distribute the quantity of workbooks required. Room to Read partnered with them, providing workbooks to approximately 665,000 lower primary school children across the country.
INNOVATING WITH "OLD" TECHNOLOGY
The digital divide widened due to the pandemic, causing immense challenges for equitable, remote learning. In some cases, Room to Read innovated by using seemingly older solutions because of their technological simplicity, such as interactive audio teaching.
In Bangladesh, Room to Read worked with the Directorate of Secondary and Higher Education to develop videos on life skills sessions to broadcast on the national TV channel.
In Rwanda, Room to Read supported the Rwandan Education Board's national remote learning programme focused on Kinyarwanda reading, producing radio lessons and developing text message-based reading assessments.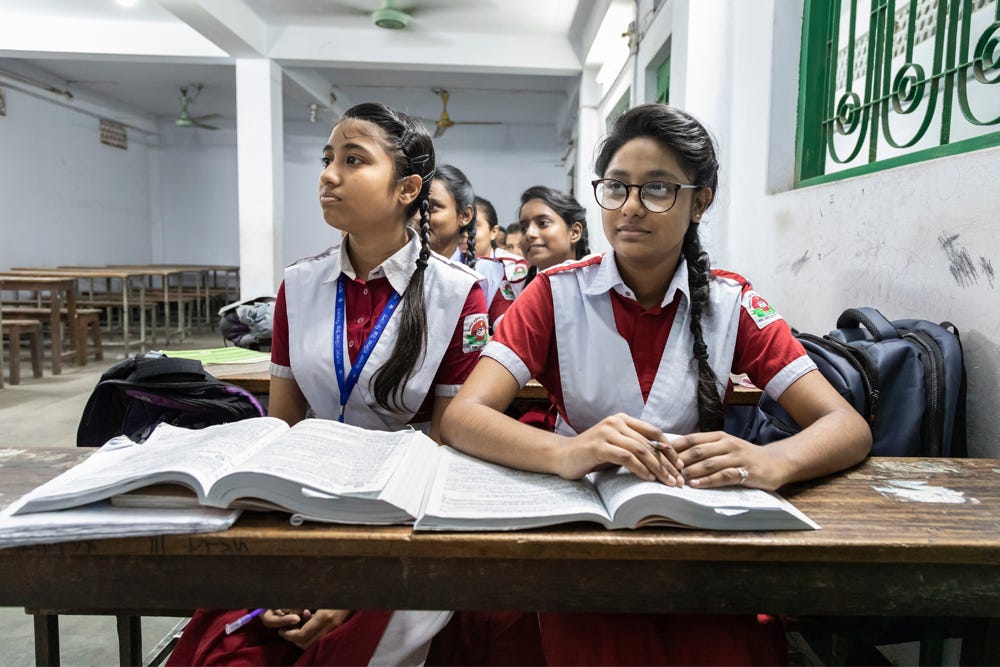 SHIFTING FOCUS TO NEW DATA
The many changes to Room to Read's programme activities meant its typical measurement and data collection approaches were no longer applicable, so it created a new set of indicators for its emergency education interventions.
In the Girls' Education Programme, for instance, the organisation typically collects data that help identify girls at risk of drop-out, such as missing three consecutive days of school. During the pandemic they pivoted to identify factors that might put girls at risk of never returning to school, such as loss of household income.
FACING FEAR AND SPEAKING OUT
Room to Read had no time for fear, as Geetha Murali explains: "We had to urgently keep education at the forefront of public consciousness and not allow it to become a footnote to the global health challenge. We had to optimize every innovation and resource in pursuit of our mission because Room to Read is only as successful as its ability to release the potential that lies within the world's children."
SHARING LEARNING AND CELEBRATING ACHIEVEMENTS TOGETHER
Geetha Murali has shared Room to Read's thinking, initiatives and learnings in this period with other organisations in an insightful essay entitled An Atypical Anniversary: Re-engineering Room to Read, where she comments: "People are said to reveal their true nature more clearly in times of strain, and organizations are no different. We discovered that Room to Read's evolution has engrained in us immense grit and a resolve to persevere."
Central to this are of course the organisation's people and she celebrates their achievements with pride: "As a human capital-intensive organization, if we were to have the stamina to support our global community, our teams' faith in our decision-making and overall well-being were central to progress. I was overjoyed that the team was recognized with a special award from the Library of Congress for our pandemic response!"

You can read the full text of Geetha Murali's essay in Leading Education Change During a Pandemic: Reflections of Hope and Possibility edited by Fernando M. Reimers.

It is the source of the quotations in this article and we highly recommend it.