Entering a man's world
"My advice to everybody is that no one is incapable of doing something". Cecilia, winner of The Artisan of the Year Award 2020, uses these words to explain what happens when women cross path with Buildher, a Kenyan social enterprise that fosters the entry of marginalised women in the construction industry.
In Kenya, like many parts of the world, girls and women on the margins can rarely expect anything other from life than what society dictates. Confined to the domestic sphere and excluded from educational opportunities, they are accustomed to disregard their individual abilities and aspirations.
Felister, who is 25 and lives in Korogocho, one of the largest slums in Nairobi, doesn't embellish how this felt. "I used to live like any other village woman," she says, "waking up and taking care of the cows. I didn't like that kind of life since I depended entirely on my husband or in-laws to get what I wanted. It felt like I was a burden and had accomplished nothing. After leaving secondary school, I got married and had my first child, then a second one, which meant I had to stay home all the time. I had no other options."
If women join the labour market, they face deeply-entrenched bias and stereotypes that keep them segregated in undervalued, underpaid, informal, unsecure or temporary employment.
Cecilia, who is 35 and lives with her two children in Mathare, an informal settlement area near Nairobi, recalls "I used to sell French beans and also did household cleaning for about 2 years. When I was lucky enough to get paid, I earned between Ksh200 to Ksh300 a day (around $2-3), which wasn't enough to support my family".
Felister's and Cecilia's paths crossed when they were both enrolled in Buildher's rigorous 4-month training programme, which provided them with highly-marketable accredited technical skills, coupled with critical life skills in leadership, conflict resolution, gender training and workplace readiness among others.
Buildher, a Kenyan non-profit social enterprise, fosters the entry and retainment of marginalised women in the construction industry. With 97% of Kenya's total construction force being male, this sector has for longer than any other been considered a man's world. Today, it struggles with an alarming skills gap and Buildher saw this as an opportunity not only to empower marginalised women, typically uneducated or semi-educated, but also to challenge the gender gap, shaking up patriarchal mindsets.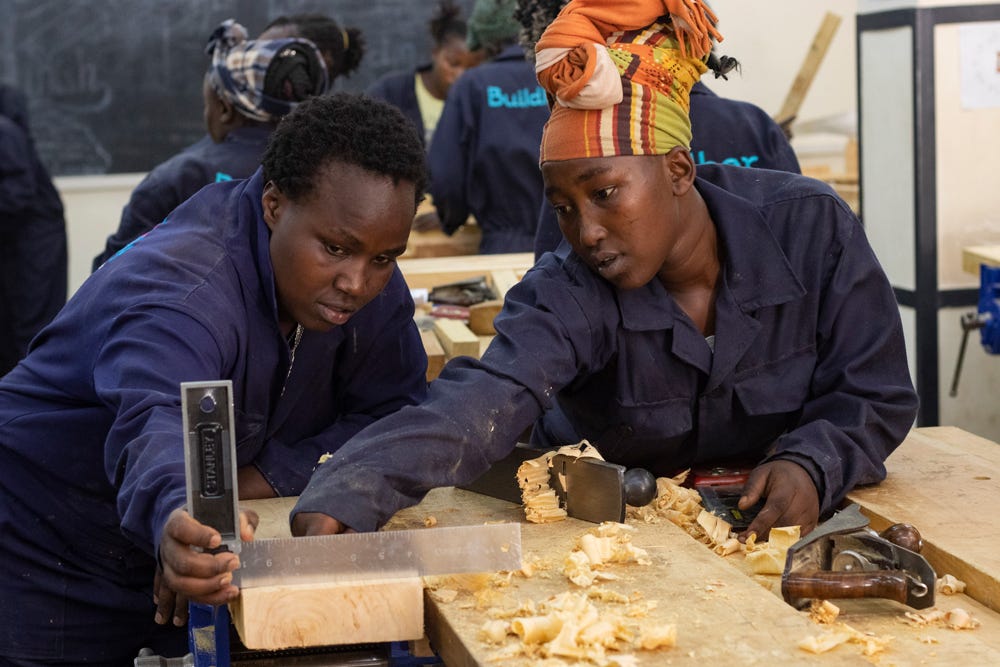 "The life skills gave me self-awareness" explains Cecilia. "I started to love myself. I also came to realise that, as a woman, I have to stand on my own feet in everything. The mental health coaching helped me manage my stress and allowed me to focus fully on the training. The carpentry and joinery training gave me the skills to get my job at Ark Construction, where I am doing formwork and earning Ksh700 a day (around $6.5). That's more than twice what I used to earn before joining Buildher."
In 2020 Cecilia won The Artisan of the Year Award. "My advice to everybody is that no one is incapable of doing something". And that includes shattering the barriers to entering a man's world.
Buildher has trained 4 cohorts in construction skills to date, with 170 graduates from 3 cohorts achieving a 530% increase in income going into employment after only 4 months of training. The organisation links formal skills training with employment offers and its employment partners report a 67% average increase in productivity for work that involves Buildher women. We support Buildher since 2019.