Safeena Husain's vision of equality
On the occasion of International Women's day 2020, we asked Safeena Husain, founder and CEO of our partner organisation Educate Girls, to share her vision of gender equality and women's empowerment. Read her exclusive interview.
Women's day 2020, we asked Safeena Husain, founder and CEO of our partner organisation Educate Girls, to share her vision of equality and empowerment, recounting her experience of building a world of opportunity for all.
Safeena will be joined by Molly Melching, founder of Tostan, and Debbie Aung, founder of Proximity Design, whose interviews will follow on this website every Monday this month. 
Gender equity, gender equality. What do you choose?
I don't think we can choose between the two. Both need to exist as gender equity enables gender equality. A society that wants to establish just platforms for both the sexes has to depend on equity to bring equal opportunities.
What is the main leap forward women made in recent years?
There are so many achievements! From space to research to climate change, women are taking strides forward. In India, women have entered the Air Force as fighter pilots, are becoming Rocket Woman of India – leading Mars mission! Girls are finding their voice on many arenas of social injustice as well as climate change like Greta Thunberg.
What is the highest wall they still need to climb?
Back in 2019, Indian women were contributing only 18% to India's GDP – among the lowest globally – and only 25% of India's labour force were women. One of the critical factors behind this exclusion of women from the workforce is lack of education.
In rural India, the most pressing reason why girls have been unable to go to school is household work and the role they play as caregivers. Shouldering this responsibility takes away their basic right to education. They have to bear the burden of unpaid work. Girls are practically unaccounted contributors in the family and absolutely invisible in the bigger scheme of things.
There is no measure taken to prevent children from investing their critical learning period in household or agricultural work. I think, overcoming these challenges and going back to education, to a level where they can support their livelihoods and become an essential contributing member of the society, will be the biggest leap forward for women in India.
As McKinsey report says, overcoming gender inequality could potentially contribute $770 billion to India's GDP by 2025, only if we consider education as the key to bring girls back to the mainstream.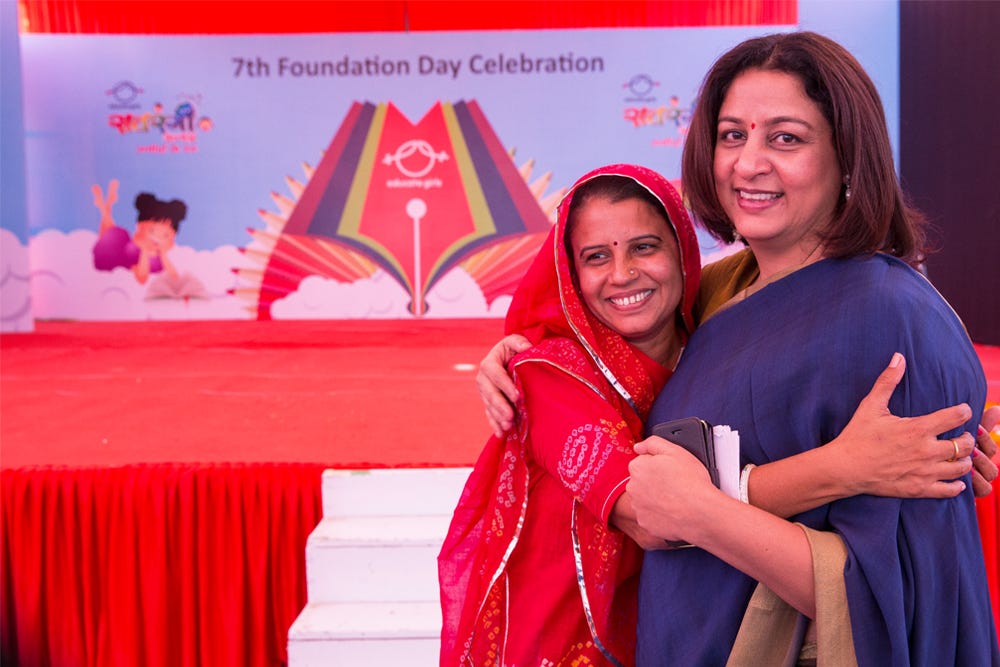 "Empowering women" has become a buzzword. What does it truly mean for you?
Empowerment creates power within individuals to own their lives, enable their society and help their communities. Women's empowerment enables her with the right tools to take life-determining decisions, be it for herself, her family, society, or her nation.
To me, an educated woman, who has the self-confidence to breakthrough pre-defined gender roles and face any barriers as she overcomes poverty and patriarchy is truly empowered! An educated girl can have positive impact on 9 of the 17 Sustainable Development Goals – be it healthcare, immunization, child marriage, HIV, income generation, inequality – because an educated girl is twice more likely to educate her children.
Role models can help break down conscious and unconscious bias for girls and women. You're definitely one, but do you have one? 
My role model is Malala Yousafzai. She brings amazing clarity of thought at a very young age. I have heard her speak and her inner strength is reflected in the changes that women's educational and social rights policies have seen globally. Her persistence echoes in the way the world is addressing social, cultural and political factors that exclude girls from a basic human right – the right to be educated!
What is the most important lesson you have learnt in your fight for gender equality? 
Each passing day comes with a set of learnings for all of us here at Educate Girls. Since 2007, we are working with community volunteers and the government school system, to get out of school girls in rural India into school and learning. We aim to holistically tackle issues at the root cause of gender inequality in India's education system, and till date have helped ensure over 90% enrolment and higher attendance of girls. We have also improved school infrastructure, improved quality of education and increased learning outcomes for girls and boys, in some of the most marginalized communities in India.
Working in this sector for over a decade, some of the biggest learning was that change – be it behavioural or mind-set, can only happen through community ownership – solutions have to be found within the community, delivered for and by the community. Mind-set change is a deep, deliberate and long-term effort, with no scope to parachute in or out.
To achieve it, a strong connect to cause and stronger partnerships with the government, civil society and like-minded funders are required. This brings scalability of the success model, with quality at the heart of it.
What is the book everyone should read to get on board and support women in their endeavours?
While there are many books that capture the essence of it, I like narratives that keep things simple yet leave deep impact. Rebecca Solnit's Men Explain Things to Me brings the issue of gender inequality to light from a woman's perspective.  And nothing can beat Malala Yousafzai's memoir – I am Malala.