Helping girls stay in education
School-based healthcare is helping girls stay in education and authorities in Zambia fight COVID-19. Lonnie Hackett, President of Healthy Learners explains us how.
Healthy Learners is a non-profit organisation based in Zambia that brings healthcare delivery to where children spend most of their days: school (when we're not in a global pandemic).
Schoolchildren are largely being ignored by major global health initiatives, which tend to focus on newborns and children under five. Healthy Learners addresses this gap by training teachers as School Health Workers (SHWs) so they can also monitor and respond to the health needs of schoolchildren, providing health education and basic medical care, referring sick children to medical facilities and running preventive health programmes, including deworming treatments and vitamin A supplementation.
An impact study found that children in the Healthy Learners' programme were 38% less likely to be sick than children at schools without it, and that the actions of SHWs led to a 22% increase in health knowledge, a 48% increase in deworming and vitamin A supplementation coverage and a 52% decrease in the odds of stunting.
While the model targets girls and boys equally, school health is particularly important for girls. "Girls represent 55% of students in the schools where we work and are more likely to drop out" explained Lonnie Hackett, President of Healthy Learners. "That's why our training for teachers covers sexual and reproductive health, including menstrual hygiene management in particular. Menstruation is a significant cause of absenteeism for schoolgirls who would rather stay at home than be uncomfortable, inactive and embarrassed due to inadequate education, material and facilities".
Healthy Learners aims at improving healthcare access for 285,00 children attending primary schools in Lusaka and Copperbelt provinces by 2022. Their partnership with the authorities accelerated and was streamlined during the COVID-19 pandemic, which highlighted the importance of its work. Nationwide school closures from March to June disrupted the learning of more than 4.4 million children and adolescents, putting girls especially at risk, with prolonged school-absences resulting in increased cases of sexual violence and harassment, early marriage and pregnancy.
Lonnie told us: "At the beginning of the year, we supported the Zambian Government to develop School Health and Nutrition Guidelines, which codified our programme as national policy. Then, when the Government made the decision to reopen schools, the Ministry of Education asked Healthy Learners to lead the development of its national COVID-19 guidelines for schools."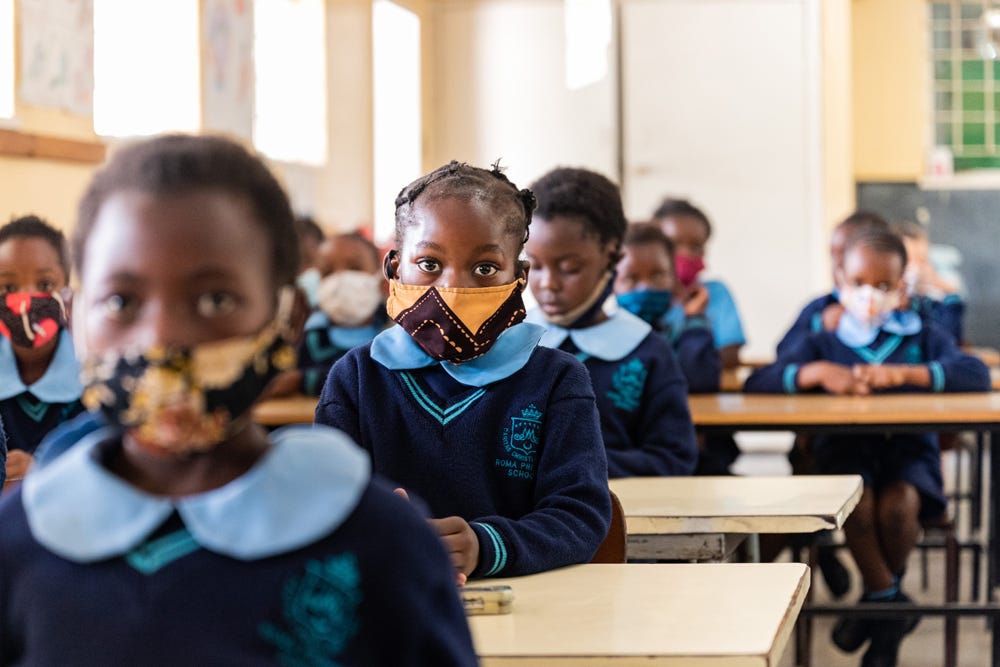 Zambia's schools reopened partially on the 1st of June, and then for all learners at the end of September. Healthy Learners trained all its teachers on the country's COVID-19 guidelines and the results were impressive. "We observed that, despite limited resources, schools implemented risk-mitigation practices effectively, including mandatory mask wearing, enhanced hand sanitation, temperature screening for students and teachers, and the isolation of suspected cases."
Schools were meant to start the 2021 year on January the 18th. However, due to a spike in cases caused by the new South African coronavirus variant, the government decided to keep them closed for a further two weeks. Healthy Learners is now working tirelessly with school leaders and teachers to ensure that they are able to reopen safely and effectively. This includes providing cleaning supplies and disinfectants while retraining school administrators and teachers on preventive measures as well as what to do in the event of suspected school outbreaks.
Moreover, Healthy Learners staff are analysing the data that the SHWs collect, using special clinical assessment software (developed by THINKMD) to monitor community health and detect outbreaks. This enables the organisation to provide reliable low-cost surveillance of the spread of COVID-19 that could be used to rapidly inform public health decision-making and the allocation of effort and resources.
Work is now under way with Zambia's Centre for Disease Control and Ministry of Health to integrate this Healthy Learners initiative in the government's existing surveillance systems.